This story is about courage, determination, resilience, optimism and an inspiring example of how sport can play a part in including everyone. It is also a reminder that with the right attitude, anything is possible — with or without a disability.
Jake Ballestrino, 25, was born with what he describes as upper limb deficiency or a bilateral deformation of the upper limbs. "I've never seen it as a disability, nor have my family, friends and anyone around me," he says.
"And if in any case I wasn't included, I would include myself. When growing up if there were kids kicking the footy I would go up to them and join in with the mindset that I may be not be able to mark the ball but I can kick it, and I can probably kick it better than you."
This positive attitude and determination has driven Jake his whole life and has taken him a long way. He sees sport as a barrier breaker and his passion for it has enabled him to make life-long friends, achieve many great feats and stand alongside against anyone as an equal.
Jake has also been intrigued by the coaching side of sport as he has an interest in how the body works and imparting his knowledge and experience. "I've been adapting things my whole life through sport and other areas of my life from the way I brush my teeth to the way I pitch a softball, so coaching and adapting styles and techniques really interests me."
So when the opportunity came up to coach softball through the Sporting Schools program on behalf of the Werribee Softball Association, Jake jumped to it.
The Sporting Schools program is Australia's largest school-based participation program. Funded by the Australian Sports Commission, it brings together schools and sports to help get children active in their local communities.
"I've really enjoyed delivering the Sporting Schools program, especially the current school I'm coaching this term at St Andrews Primary School in Werribee," Jake says. "The best thing about it is the children are well behaved and I've really enjoyed coaching two students in the group who have a disability.
"Michael is a Sudanese boy who has cerebral palsy, and another student I coach has Floating-Harbor syndrome. With any luck I hope I've showed them not to let their disability define who they are, they are more than capable of doing whatever they set their mind to, if that be sport, excellent, if that be something else like computers, excellent, and I hope that I am someone that they can look up to and say if he can do it, why can't I?"
Jake says he is working on modifying a glove for Michael with a rest to support his fingers. This will enable Michael to wear a glove and partake further in the catching activities.
Teacher Sally-Ann Taylor says Jake was an inspiration. "We'd like to extend our gratitude to Jake for all his assistance with the students at St Andrew's Primary School and especially the attention given to Michael," she says.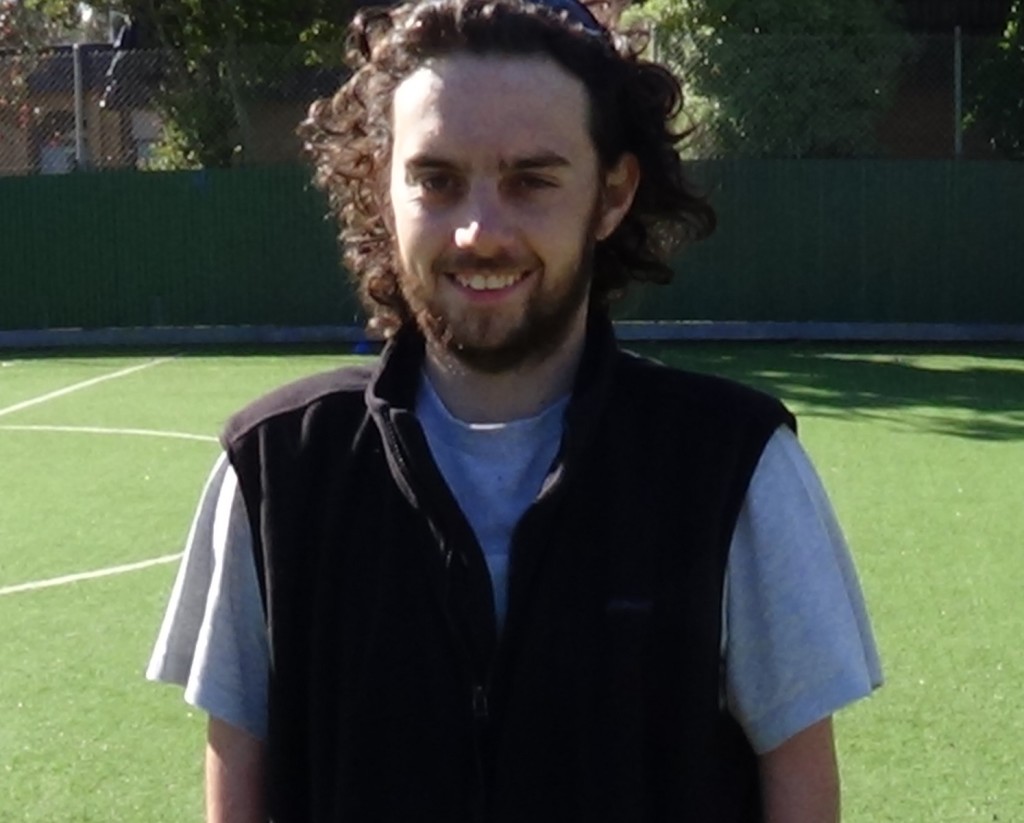 "Jake inspired all the children he worked with over the last couple of weeks. He taught them a valuable lesson despite his physical disabilities he doesn't allow it to stop him doing anything."
DSC00064Jake was born into a softball family with Dad the President, Mum assistant treasurer and siblings all playing at the Pirates Softball Club in Werribee. "The best thing about softball for me is that my whole family are involved," he says. "On the field I look to my left there is my brother Michael, I look to my right there is my brother Stephen."
Being part of the Pirates Softball Club has also provided Jake with many memorable experiences and opportunities with making the Werribee under 18s representative side one of many highlights as well as winning this year's best and fairest award in his team, playing left field and a relief pitcher in the men's C grade competition. "There is a real sense of belonging, being involved at the club has been fantastic for me, and everyone is very supportive and have allowed me to experience all aspects of the sport."
Jake's story is also an example as to why it is important for all clubs to be inclusive. "My advice to all clubs is to include everyone, look past their disability, you don't know what they are able to achieve unless you give them a go."
In addition to playing and coaching softball, Jake is also a softball umpire, another opportunity and challenge that he happily accepted from the Pirates.
In between playing, coaching and umpiring softball, Jake's other passion is table tennis. After starting only four-and-a-half years ago at the Werribee Table Tennis Association with his father, Jake narrowly missed out on making the 2016 Rio Paralympics. After four months of playing he represented Victoria at the Nationals and won a gold medal, which propelled him to the top- ranked position in Australia in the Class 7 division and a spot in the Australian team.
Now, knowing how good he is at table tennis and the opportunities available, Jake is working towards making the 2020 Tokyo Paralympics. "If there had been an International class 7s at the regionals last year and I'd won or come second I would be getting ready to go to Rio. I'm definitely now aiming for the 2020 Tokyo Paralympics and before that the World Championships in 2017."
And if you thought Jake couldn't fit anything else in his busy schedule, think again, as Jake is a Graphic Artist having completed an Advanced Diploma in Interactive Digital media, which covers anything you see on a computer from start up to shut down and anything you see on billboards or posters. "I've also created booklets and other resources for the sporting clubs I'm involved with, such as a players' handbook, and I am also working on developing advertising and promotional material for the Pirates Softball Club to attract more juniors into the sport."
Jake's final bit of advice to other people in similar circumstances is simple: "Do your best, give everything a try, do what you enjoy and don't let anybody tell you that you can't."
Article sourced from Softball Australia