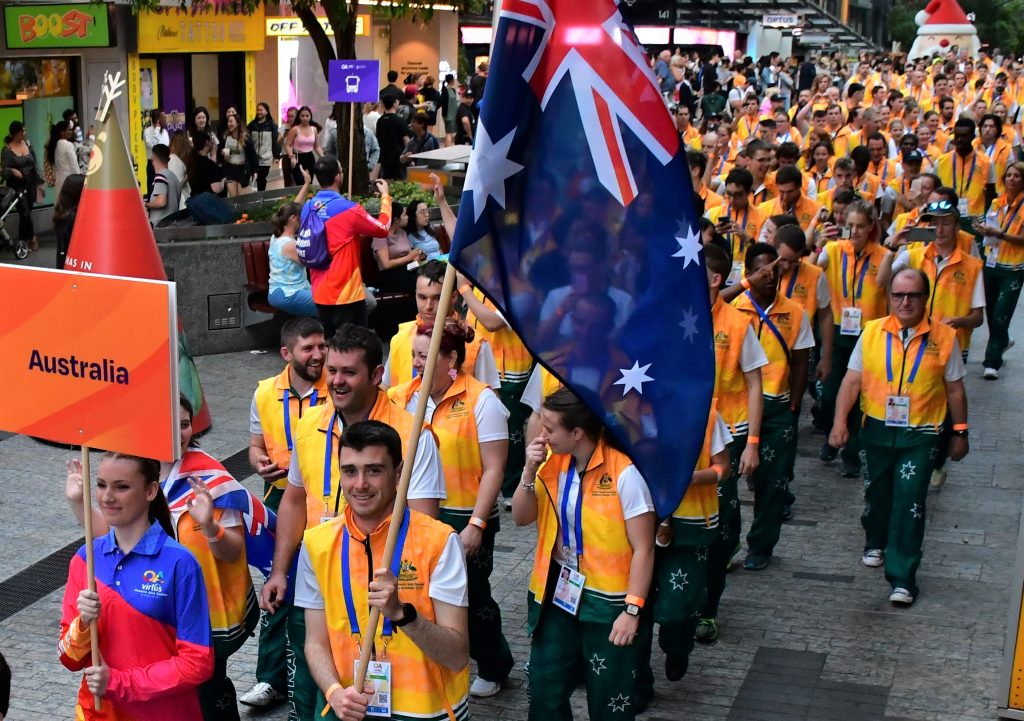 Sport Inclusion Australia has today announced the Australian team for the 2023 Virtus Global Games in France.  A total of 121 athletes are expected to represent Australia across 10 sports at the Games in Vichy France from 4 to 10 June 2023.
"We are very pleased to see so many athletes qualify for the Games following on from the very successfulOceania Asia Games held in Brisbane in November 2022" said Sport Inclusion Australia President Helen Croxford.
The Virtus Global Games will welcome over 1000 athletes from over 50 countries with Australia's team expected to be the second largest behind host country France.  Australia has a proud record at the Games finishing on top of the medal table at all Global Games except the 1st in Bollnas Sweden in 2004 where they finished second.  With such a large team travelling to France, officials are hopeful of maintaining their position on top of the ladder.
Australia is leading the way with participation of women with 47 women across 8 sports.   Athletics is the largest component of the Australian team with 30 athletes, followed by swimming with 24 and Basketball 22.
Seven of the ten sports (Athletics, Cycling, Judo, Taekwondo, Table tennis, Tennis and Swimming) have all confirmed their selections.  Basketball, Futsal and Equestrian are expected to confirm selections in the coming weeks.
The 2023 Virtus Global Games will also see the inclusion of athletes in the II-3 (Autism) group competing with full medal status following Virtus's announcement of the finalised eligibility criteria earlier this year.  Australia will field athletes in all three groups II-1 (intellectual disability), II-2 (intellectual disability with significant other impairment) and II-3 (autism).
Equestrian will make its debut at the Games.  In recent years Australian athletes have been able to compete internationally in virtual competitions.  Riders will have the added challenge of riding new horses supplied by the local organising committee with just three days to adjust.
"Striving to increase the number of elite Australian athletes competing at the Global Games is an on-going partnership with the National Sporting Organisations, who continue to work with SIA to grow the sport, and for more athletes to have access to more competition, thereby increasing our capacity to bring a strong team of elite athletes to the Global Games in Vichy," said Robyn Smith OAM, Head of Delegation.
"The Australian team is leading the way with athletes competing in 10 out of the 13 sports on offer and with competing athletes in all three eligibility groups – we will be working to defend our championship from Global Games 2019 and bring home the first II-3 medals in a Virtus Global Games event."
Ms Smith also said the Australian team is a team of champions and are fundraising to ensure every athletes is supported to their needs. Donations can be made via My Cause, search "GG2023" or click this link: https://www.mycause.com.au/page/306721/going-for-gold-and-glory-at-gg2023
The team may feature three pairs of siblings with Victoria's Montana and Jamieson Whiteley already named in the Cycling team.  ACT's Brittany and Taylor Anderson and South Australia's Keenan and Zachary Georg-Dent have been selected in squads for Basketball.
New South Wales will provide the majority of athletes with 36, closely followed by Victoria with 33 and Queensland with 25.  All states and territories except for NT will be represented.
New South Wales athlete Kelly Wren (Tennis) will contest her 6th Global Games having competed in all Games (Sweden 2004, Czech Republic 2009, Italy 2013, Ecuador 2015, Brisbane 2019 and now France 2023).  Wren will be the oldest Australian competitor at the Games and has also represented Australia in Basketball.
Australia Representatives
Athletics: Aaron Houston (NSW), Amelia Mazzei (NSW), Annabelle Rodgers (NSW), Belinda Slatter (QLD), Blake Carr (NSW), Ebonie Cooper (QLD), Eliesha Byrt (VIC), Ethan Parry (QLD), Georgia Powning (VIC), Hugo Taheny (SA), Jack Connors (NSW), Kyle McIntosh (NSW), Liam Griffett (VIC), Lillee Wakefield (SA), Lindsey Hendy (QLD),  Lleyton Lloyd (NSW), Malachi Canning (NSW), Rebecca Mathers (TAS), Riley Mann (QLD), Sam LeFeuvre (QLD), Sammy Muamba (NSW), Stephanie Schweitzer (NSW), Telaya Blacksmith (NSW), Timon Sideris (SA), Timothy D'Abrera (ACT), Phoebe Mitchell (VIC), Kobi-Lee Dyer (VIC).
Basketball Women: Brittany Anderson (ACT), Taylor Anderson (ACT), Jasmin Funnell (ACT), Montana  Haag (VIC), Madilyn Janssen (ACT), Jessica McCulloch (VIC), Evangeline Patterson (VIC), Louwanna Sheridan (ACT), Mackenzie Wills (NSW), Mia Wilson (VIC)
Basketball Men: Brayden  Cowell (TAS), Frazer  Dawber (VIC), Jake  De La Motte (VIC), Keenan  Georg-Dent (SA), Zachary Georg-Dent (SA), Jack Innella (VIC), Jack Gilbertson (NSW), Brad  Kinross (SA), Justin  Koenig (ACT), James Myers (VIC), Matthew Farrar (VIC), James Doyle (NSW)
Cycling*: Andre Ascui (VIC), Nathan Glarvey (QLD), Cameron Marshall (VIC), Jamieson Whiteley (VIC), Montana Whitley (VIC), Georgia Powning (VIC), Molly Thatcher (VIC), Harry Mezger (VIC), Oliver Hutchison (QLD)
Equestrian: Andrew Driffield (NSW), Sarah Sherwood (QLD) Sui Watts (NSW)
Futsal (Squad): Andrew Hoatson (ACT), Joshua Long (QLD), Samuel Mills (SA), Rocco Muemeci (NSW), Samson Samason (VIC), Brad Southwel (NSW), Nathan Whelan (NSW), Ayden Brenton (SA), Bradley Bettens (SA)
Judo: Robert Girdwood (WA), Tobias Sampson (TAS), Lillee Wakefield (SA), Liam Hudson (SA)
Rowing: Bronte Marshall (NSW), Julia Story (NSW), MacIntyre Russell (QLD), Aaron Skinner (VIC)
Swimming: Joshua Alford (ACT), Bailey Stewart (QLD), Jarred Dyer (NSW), Darren Sisman (NSW), Liam Schluter (QLD), India Biesse-Fitton (VIC), Jade Lucy (NSW), Kael Thompson (QLD), Airlie Davis (QLD), Stephanie Bruzzese (NSW), Charles Wilkins (SA), Bradley Doolan (VIC), Russell Booysen (QLD), Katrina Coffey (NSW), Alexander Hejaij (NSW), Gabriel Cregan (SA), Isaac Howells (NSW), Amelia Moore (NSW), Gabriella Howells (NSW), Bel Dabic (WA), Jakob Thompson (NSW), Madison Hinds (NSW), Ryan McGrane (VIC)
Table Tennis: Sam von Einem (SA).
Taekwondo: Chaeyon Seo (QLD), Damon Vasterink (VIC), Jack Arrah (WA)
Tennis: Kelly Wren (NSW), Carla Lenarduzzi (VIC), Breanna Tunny (QLD), Andriana Petrakis (SA), Archie Graham (QLD), Mitchell James (QLD), Damian  Phillips (NSW), Luke Barker (QLD), Tim Gould (QLD), Hunter Thompson (QLD), Simon Ma (NSW)
* A number of athletes may still be added to the team subject to completion of eligibility
–ENDS–
For more information
Sport Inclusion Australia: www.sportinclusionaustralia.org,au
Virtus: www.virtus.sport
Virtus Global Games 2023: www.gg2023.org
Media Contact:
Robyn Smith OAM, CEO Sport Inclusion Australia and Head of Delegation (robyn.smith@siasport.org)
Nithi Suppiah, Media (nithi.suppiah@siasport.org)
About Sport Inclusion Australia & Virtus
Sport Inclusion Australia (SIA) is a National Sporting Organisation established in 1986 to assist the inclusion of people with an impairment, primarily an intellectual impairment into the mainstream community using sport as the medium. SIA facilitates, educates, and supports sporting organisations and the wider community about the power of sport to deliver social inclusion, with the focus on ability, advocating for the rights of all Australians to be treated with dignity. SIA is a founding member of Paralympics Australia.
Sport Inclusion Australia is also a founding member of Virtus, the International Sport Federation for athletes with an intellectual impairment. This position as a member of Virtus Australia, amplifies the work of inclusive sport on a global stage.
Formed in 1986, Virtus (formerly INAS), continues to grow its membership of more than 300,000 athletes from over 90 nations throughout the world. Virtus and its relationships with International Federations (IF) for Sport, the International Paralympic Committee (IPC) and UNESCO, supports the development and advocacy for athlete inclusion into elite competition.