Sport Inclusion Australia today announced the team to represent Australia at the 2022 Virtus Oceania Asia Games in Brisbane.   Our largest swim team with 41 swimmers will see a mix of Paralympic, World Championship and Commonwealth Games representatives alongside 21 swimmers making their Virtus debut for Australia.
The team will be headed by Commonwealth Games representatives Jack Ireland, Liam Schluter, Madeleine McTernan and Jade Lucy along with Tokyo Paralympian Ricky Betar, London Paralympic Silver medallist Taylor Corry and multiple DSISO World record holder Phoebe Mitchell.
Corry made her debut for Australia in 2011 at the Virtus Global Games in Italy winning 8 Gold and 1 Silver medal.  Since then she has won a Silver medal at the 2012 London Paralympics and competed at World Para Swimming World Championships in 2013 and 2015 winning a Bronze medal.  Corry will make her return to Virtus competition after an absence of 11 years.
"It is great to see our young swimmers making their debut alongside our experienced swimmers such as Schluter, Corry, Lucy, McTernan and Ireland" said head coach Herbie Howard.  "With the Virtus Global Games coming up in 2023 and Paris Paralympics just around the corner in 2024, these Games on home soil will be an invaluable opportunity for the aspiring swimmers and staff" Howard said.
The team has good numbers across all of the Virtus eligibility groups and will look to build on its dominance in the pool at the 2019 Virtus Global Games.
"Australia has a proud history in the pool and has been the dominant country at Virtus Global Games, this team with its blend of experienced and debutant swimmers will look to continue that dominance at these Games and next year at the Virtus Global Games in France. " said Sport Inclusion Australia  CEO Robyn Smith.
"We are particularly pleased to see swimmers such as Corry, McTernan, Lucy, Schluter and Ireland all of whom made their international debut with Virtus and have gone on to represent Australia at Paralympic, World Championships and or Commonwealth Games continue to support our team and the Virtus pathway." Smith added.
The Australian Swimming team is:
Men
| | |
| --- | --- |
| II-1 | Joshua Alford (ACT), Bailey Stewart (QLD), Ryan McGrane (VIC), Liam Schluter (QLD), Kaden Smith (NSW), Ricky Betar (NSW), Jack Ireland (QLD), Jarrod Dyer (NSW), Lachlan Hanratty (NSW) |
| Youth | Darren Sisman (NSW), Samuel Gould (NSW), Declan Budd (NSW), Harry Keane (NSW) |
| II-2 | Charles Wilkins (SA), Bradley Doolan (VIC), Russell Booysen (QLD), Harry Cahill (QLD) |
| II-3 | Isaac Howells (NSW), Adriano Sorrentino (NSW), Blake Price (NSW), Jakob Thompson (NSW), Gabriel Cregan (SA) |
Women
| | |
| --- | --- |
| II-1 | Madeleine McTernan (QLD), Montana Atkinson (QLD), Stephanie Bruzzese (NSW), Yasmine-Bella Younes (NSW), Jade Lucy (NSW), Kael Thompson (QLD), Airlie Davis (QLD), Taylor Corry (NSW) |
| II-2 | Elizabeth Hocart (QLD), Madeline Fox (VIC), Phoebe Mitchell (VIC), Katrina Coffey (NSW), Caitlin Kerby (QLD), Taylor Anderton (QLD), Lily Crawford (NSW) |
| II-3 | Bel Dabic (WA), Porscha Jimmieson (NSW), Amelia Moore (NSW), Summer-Skye Crisp (QLD) |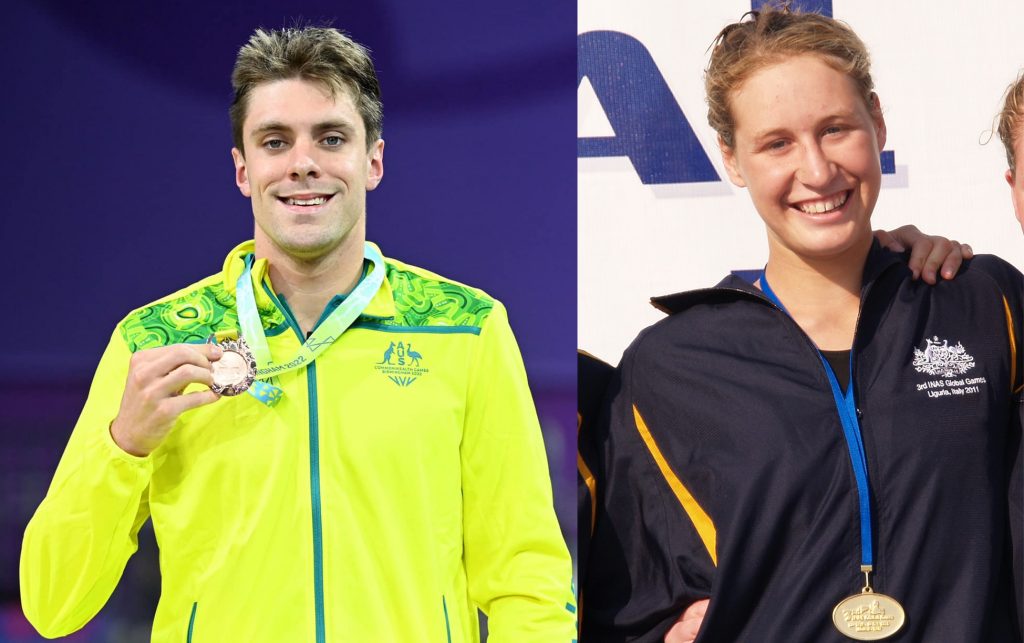 The Virtus Oceania Games will run from 5-11 November in Brisbane.
Contact
Sport Inclusion Australia: sport@siasport.org
Virtus Oceania Asia Games: info@oagames2022.org