The Chief Executive Officer of Sport Inclusion Australia for over 30 years Robyn Smith has dedicated her life to improving the lives of people with a disability.
"It is a privilege to be recognised and receive this award for a role that I cherish. I am just as passionate today as I was in 1991 when I started with Sport Inclusion Australia to represent and advocate for social inclusion of people with a disability using sport as the medium. I am also extremely thankful to Marie Little OAM for providing me this opportunity and all Board members since who have supported me. I am humbled to accept his honour on behalf of the movement and all the athletes we represent who continue to inspire me on a daily basis."   Smith said.
In 2007 Smith's mentor, friend and founder of Sport Inclusion Australia Marie T Little OAM was also recognised. Smith was privileged to be invited by Little to attend her OAM Investiture ceremony, knowing she is sharing an honour also bestowed on Little will add significance to the honour for Smith.
Sport Inclusion Australia President Helen Croxford has worked closely with Smith since joining the Board in 2015 and has been amazed by her drive, passion and commitment.  "Robyn has dedicated her career to ensuring that people with an impairment are heard and seen and have the opportunity to participate in sport at all levels. Her philosophy is and always will be "person first" and she has worked tirelessly with International,  National and State Sporting Organisations, all levels of Government and the wider community to advocate for more inclusive practices for the cohort she represents. Robyn was recently elected onto the International Paralympics Governing Board. A great individual achievement which will provide Robyn with a platform to continue advocating for people with an intellectual disability." Croxford said.
Working with National and State Sporting Organisations Smith has been instrumental and has had a lead role in the establishment of pathways and opportunities for athletes with an intellectual disability.  Outside of the Paralympic pathway events such the Ivor Burge Basketball Championships, Australian Tennis Championships, Lord's Taverners Indoor Cricket and Football Integration Development Association (FIDA) have been providing ongoing competition and pathways for athletes for more than 25 years.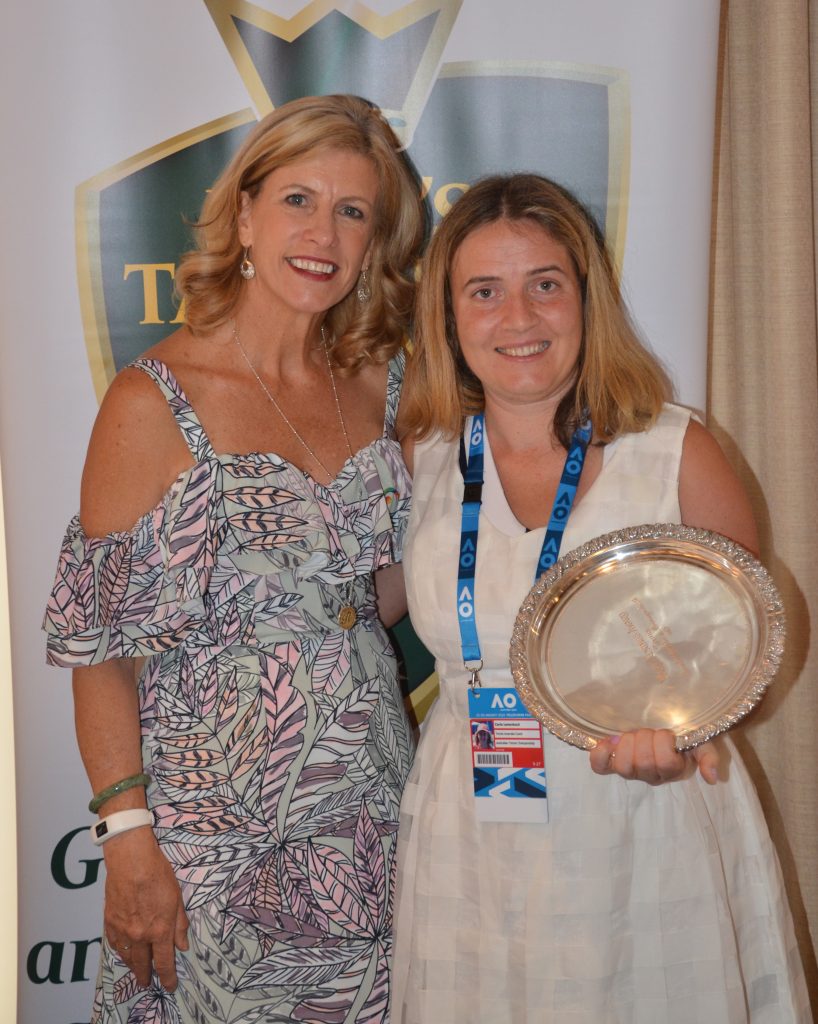 Smith's passion for improving the lives of others goes beyond her role with Sport Inclusion Australia and people with an intellectual impairment.  Smith started her working life as a teacher with a passion for teaching and enriching the lives of her students.  An elite Netballer in her day, Smith transitioned to coaching in 1990 and has tackled this with the same passion at club, regional and state level.  Robyn was acknowledged for her services to Netball with life membership at Benalla Saints Sports Club and the Goulburn Valley Netball League.
Peter Ryan OAM, President of FIDA recalls his first meeting with Smith in 1991, "I first met Robyn in 1991 working with the Hawthorn Football Club and City Council to develop a competition pathway for football players with an intellectual disability.  Robyn's passion and commitment for inclusion and providing social inclusion pathways through sport was as strong then as it is now."  From those early beginning the FIDA competition has grown to become the pinnacle football competition for players with an intellectual impairment in Australia with over 800 players and 3 leagues across Victoria.  In 2017 the competition expanded with the inclusion of a National event run by the AFL with teams from all states participating.
As Vice President of Virtus Smith has also worked tirelessly with her counterparts around the world making a difference to the lives of hundreds of athletes and growing the awareness and advocacy for elite pathways in sport.
Alongside the sports of Basketball, AFL, Tennis, Cricket and Indoor cricket, athletes now have opportunities to compete at local, state and National level in a wide ranges of sports, pathways that are sustained by the sporting organisations and contribute not only to the lives of people with a disability but also the sporting community who are also richer for their engagement.
In 2018 Smith took on the additional role as CEO of the Global Games Organising Committee.  The Games held in 2019 raised the profile of the athletes, showcased what they can achieve and opened doors.  The success of this event was largely due to Smith's passion, belief and commitment which impacted on all who worked for her to deliver the Games.
Athletes have always been the focus of Robyn's work, her "person first" philosophy and commitment to inclusion drives her every day.
In 2021, Smith was elected to the International Paralympic Committee Governing Board, a position that also provides her a seat on the 2032 Brisbane Olympic and Paralympic Games Organising Committee.  In addition to these commitments, Smith is also on the:
FIBA World Cup organising committee (present),
Virtus Governing Board, Vice President since 2015,
Chair of the Australian Sporting Alliance for People with a Disability (2021),
Coaching Netball at Benalla Saints Sports Club (1998-2022),
Driving force in the Benalla Walk 2 Dfeet MND committee which has raised over $500k from within the Benalla community towards MND research, and importantly
a mother to Dene, Georgia and Martine who not surprisingly share their mothers drive, passion and "person first' philosophy.
On behalf of the Board of Sport Inclusion Australia and the thousands of athletes you represent and strive to provide a better world for, we congratulate you on your OAM and we are very proud of your achievements.
Contact:
Robyn Smith 0418 979 459,
Helen Croxford 0419 327 837