As we celebrate International Women's Day it is fitting to look back at some amazing women who have not just contributed but have shaped our organisation and sport in Australia to be inclusive and respectful of all Australians.
Marie T Little OAM (Founder)
Lisa Llorens OAM (Athletics)
Siobhan Paton OAM (Swimming)
Kim Larkin OAM (Basketball)
Marie T Little OAM (Founder/President/Life Member)

The founder of AUSRAPID and its President for its first 25 years, Marie was the driving force behind AUSRAPID and the fight for inclusion.  Marie sadly passed away in 2014 and was posthumously admitted to the INAS Hall of Fame in 2015.
Marie worked tirelessly to improve the lives of people with an intellectual disability.  Her vision on integration was ahead of her time and has ensured that people with an intellectual disability who don't always achieve in the education or employment areas have experienced success and a sense of belonging in the community through their involvement in mainstream sport.   Marie espoused the philosophy to open mainstream sporting and recreation services to all Australians regardless of their ability and this philosophy is now adopted by Sport Australia, Paralympics Australia and many National Sporting Organisations.  She lobbied many government agencies seeking support of her visionary philosophy and presented numerous papers at International conferences.
Marie was also the first female to be elected to the International Paralympic Committee, IPC in 1993 and was the first female to be President of the Australian Paralympic Committee in 1997.
Marie was acknowledged with a Medal of the Order of Australia for her services to Sport and people with a disability.
Lisa Llorens OAM (Athlete)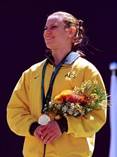 Known as "The Cheetah" for her speed and affinity with the worlds fastest land animal,  Lisa dominated the sport of Athletics at the 2000 Olympics winning 3 Gold and one silver medal. During the Long Jump competition Lisa broke the world record on three occasions.
Lisa competed at the 1996 Summer Paralympics in Atlanta, winning a gold and a bronze in track and field events and was later acknowledged with a Medal of the Order of Australia for her gold medal
Lisa also competed at the IPC Athletics World Championships, INAS Global Games and INAS Athletics World Championships adding to her impressive medal tally at every event.
The Australian Paralympic Committee described her as "Australia's most outstanding female athlete with an intellectual disability".
In 1997, Lisa was awarded the Australian Capital Territory Female Sportstar of the Year award and Young Canberra Citizen of the Year.  Lisa was inducted into the ACT Sport Hall of Fame in 2015 and the INAS Hall of Fame in 2016.
Following the ban in 2000 and no pathway to the Paralympics, Lisa retired from Athletics as she felt that there was nothing left for her to achieve in sport.  Lisa took up Ballet and works at the Canberra Zoo where she keeps a close eye on the resident Cheetahs.
The former INAS World record for the Long jump and high jump events, Lisa remains the INAS World Record holder for the 200m, 15 years after her retirement.
Siobhan Paton OAM (Athlete)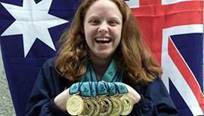 No one has dominated the swimming pool like Siobhan Paton.  In 1997 she competed at the INAS-FID Games winning seven Gold and one silver medal.  At the 2000 Summer Paralympics in Sydney, Siobhan won six gold medals and set world records on nine occasions in the process.
At the 2004 INAS Swimming World Championships Siobhan won 14 Gold and three silver medals an amazing feat.  Later that year competing at the 1st INAS Global Games Siobhan won another 3 Gold, 2 Silver and 2 Bronze medals.
In recognition of her achievements, the Australian Paralympic Committee named her "Paralympian of the Year" in 2000, and she was honoured on a postage stamp. She was also awarded a Medal of the Order of Australia, an Australian Sports Medal and inducted into the ACT Sport Hall of Fame in 2013.
Kim Larkin OAM (Athlete)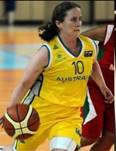 Kim Larkin first started playing Basketball at the age of 8, at 17 she was representing Australia, and 4 years later she was appointed captain.  It didn't worry Kim that she was often the shortest player on the court, as the point guard she was in command and was reknown for having one of the sweetest three point shots.  Kim didn't just lead the team on the court but off as well with her commitment to fitness and training.  That commitment to fitness saw Kim also represent Australia at the 2005 INAS Athletics World Championships in Canberra.
Kim wore the green and gold on the Basketball court for 16 years during which time the team never finished outside the medals at an INAS World Championship or Global Games event winning 5 Silver and 4 Bronze medals.
'Kim is the person that you want to get the ball to when it comes to the crunch' according to Sally Duncan, Australian Pearls Team Manager.
In 2004 she was named in the Point guard in the World All Star team.
Kim has also been acknowledged for her services to sport with a Medal of the Order of Australia.
Playing with her home state of Victoria at the Ivor Burge Basketball Championships Kim won 11 Gold and 3 Silver Medals, and in 2010 Kim was acknowledged by Basketball Victoria as their "Most outstanding athlete with a disability Award". 
Sport Inclusion Australia has been blessed to have had such magnificent leaders and role models helping shape the organisation and sport in Australia helping to create opportunities for all athletes.
As we move forward women continue to have a major role within the movement, women such as our CEO of 28 years Robyn Smith, a passionate advocate for inclusion and opportunities for all. Mentored by Marie over many years Robyn continues to lead with passion and energy and while Marie has now gone, Robyn doesn't need to look far for strong, capable and passionate women.  Women such as  Helen Croxford (President),  Soon to  be Basketball Hall of Fame inductee Lorraine Landon (Board Member), Jo Connolly SASRAPID and Cricket Australia Team Manager, Cathy Wilson Life Stream Australia CEO, Basketball team Manager and outstanding volunteer Sally Duncan and athletes of the calibre of Kelly Wren (8 times INAS World Champion and winner of the past 22 Singles titles  at the Australian Tennis Championships, Jade Lucy winner of 9 medals (4 Gold, 4 Silver and 1 Bronze) at the recent INAS Swimming World Championships and Nicole Harris who has represented Australian in Basketball, Athletics and Skiing where she has won several INAS World titles.  These are just a few of the outstanding women leaving their mark shaping sport and inclusion in Australia.
Todays young athletes and administrators do not have to look far for role models on and off the sporting field.