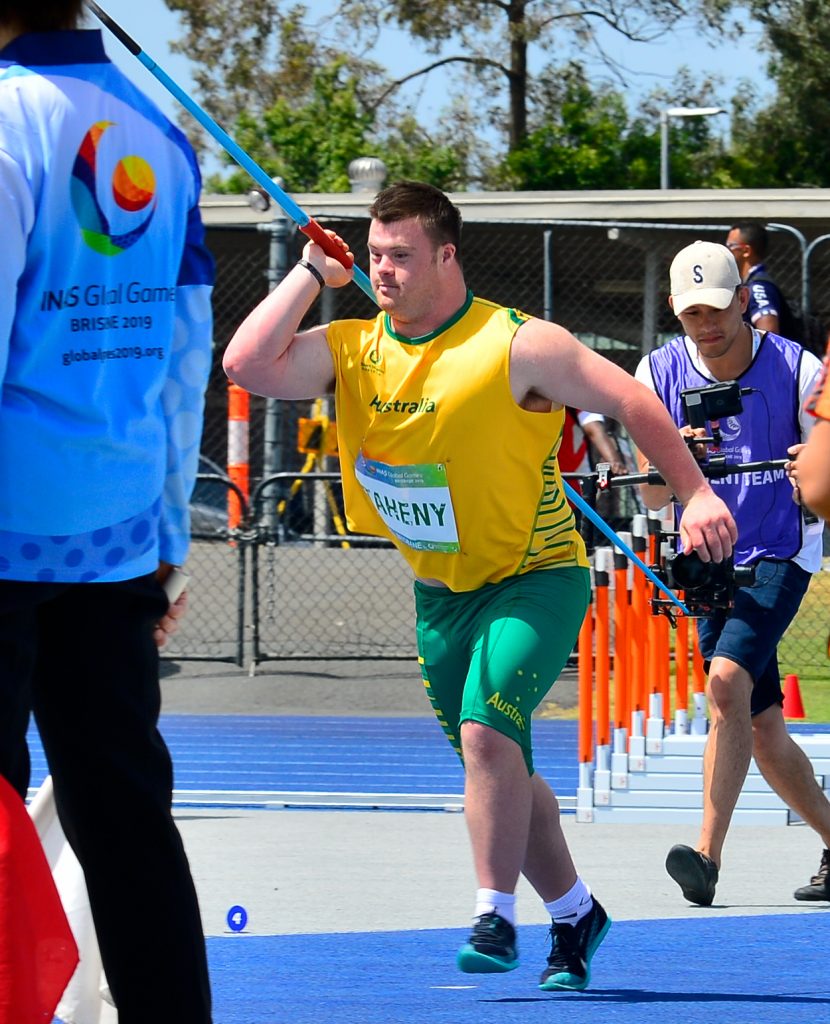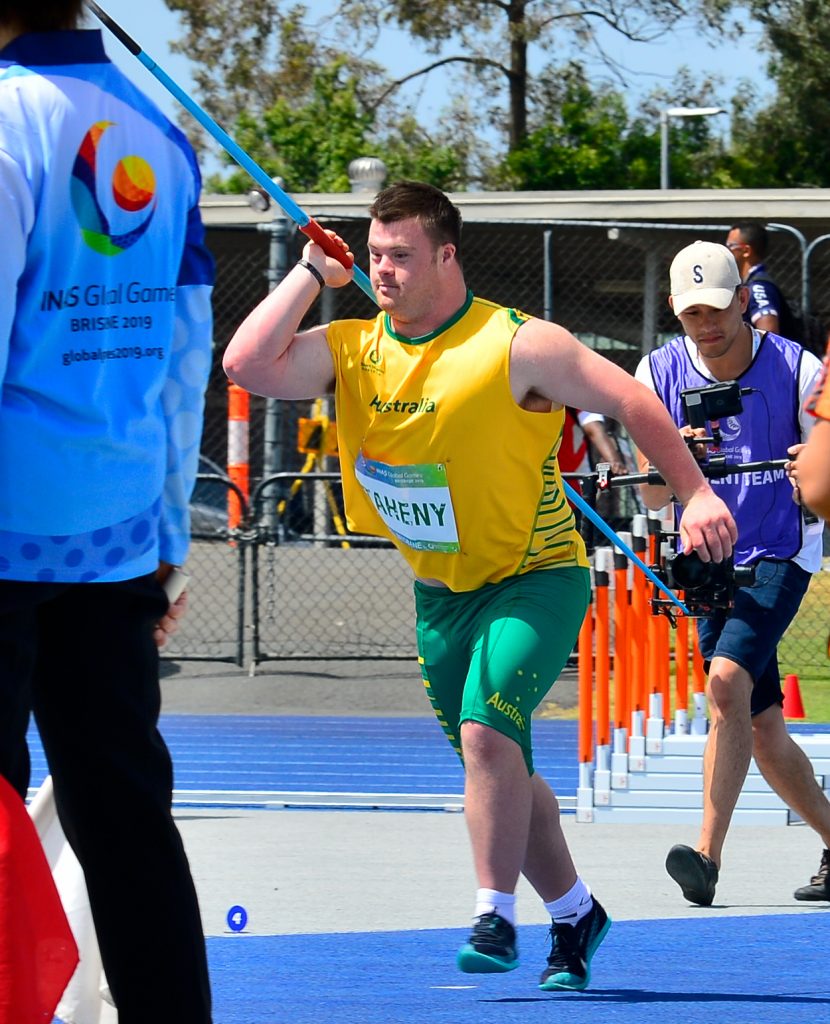 Hugo Taheny comes from Point Turton, a small remote coastal town in South Australia with a population of just over 300.  A trip to Adelaide to compete at Athletics South Australia competitions is a 6 hour return trip for the family. A long trip for most, but for Hugo and his family it is just what you have to do.
Not surprisingly Point Turton is a little short of sporting facilities, coaches and throwing equipment, but that doesn't stop Hugo or his family. Hugo's older brother Tom and sister Lucy have also competed at National level in athletics, while Lucy also excelled in Netball as a scholarship holder at SASI.
The youngest child of John and Louise Taheny, Hugo has always loved his sport and has been competing in athletics, basketball and football at local competitions since he was 10 years of age. One advantage growing up on a farm is there are plenty of paddocks to practice throwing under Dad John's watchful eye.
In addition to the regular trips to Adelaide to compete, Hugo had also travelled interstate on 3 occasions to represent South Australia in athletics competitions.
Well supported by his local community and Athletics SA, it wasn't until the 2018 Australian All Schools in Cairns that Hugo came to the attention of athletics selectors. Hugo won bronze medals in the T20 discus and shot put events and in doing so started a series of events that were to take this amazing athlete on a course to becoming the 2019 INAS Global Games Champion.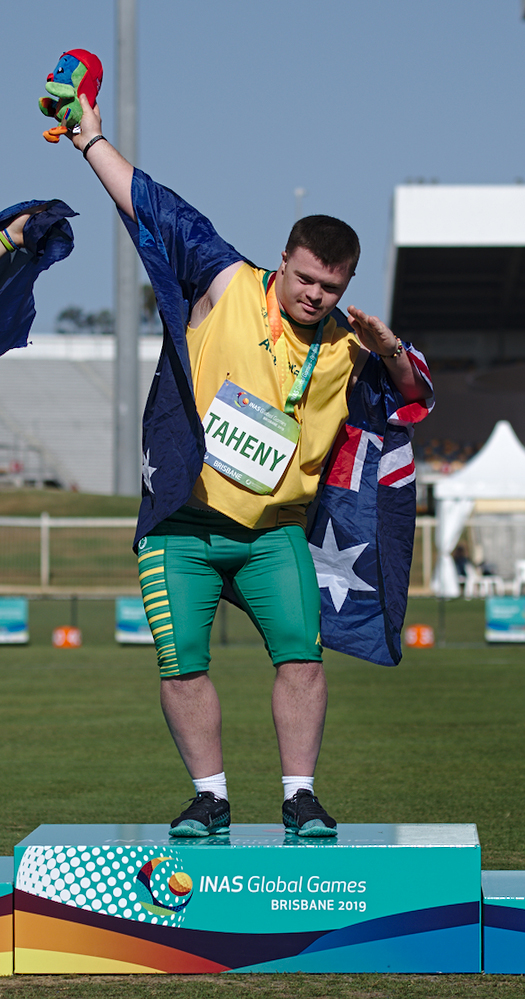 With INAS introducing events for athletes with Down syndrome at the 2019 INAS Global Games, Sport Inclusion Australia and athletics team officials were on the lookout for potential eligible athletes. Hugo came to the attention of an Athletics Australia official who was verifying eligibility for the All Schools in Cairns, in checking Hugo's eligibility with Sport Inclusion Australia team officials became aware that Hugo was an eligible II-2 athlete whose performances met the qualifying standards for the Games and so were on a mission to sign him up or at least make him and his family aware of the new pathway and opportunities that now exists for him and other athletes.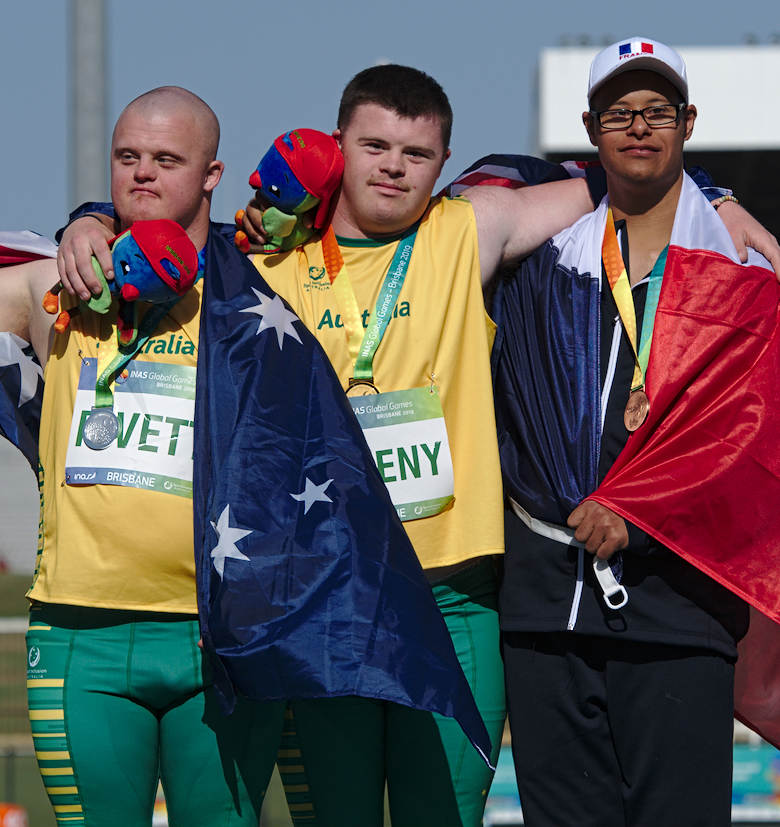 It took a bit of chasing, but with the support of Athletics SA team officials were able to meet with Hugo and his family in Adelaide and discuss the opportunities that now lay ahead.
Hugo and his family were keen to pursue this opportunity which required another trip to Sydney for the Australian Championships in April and then to Brisbane for the Games.
Hugo's athletics performances at the Games saw him win the II-2 Discus with a throw of 22.40m, a personal best of over 1.5m, he also competed in the shot put where he took Silver with a distance of 7.58m, fourth in the Javelin with a throw of 17.81m and a fourth placing in the 100m in another personal best of 15.42s.
While Hugo's athletics performances were amazing, it wasn't just the competition that brought out the best in Hugo.
The INAS Global Games is a world class sporting competition that represents the peak of sporting achievement and is held every four years. The 2019 INAS Global Games saw over 850 athletes from 48 countries compete in a world class competitive, safe, secure, inclusive environment, in a celebration of cultural diversity where people with an intellectual impairment can achieve their highest level of excellence through sport. The Global Games aims to change attitudes, challenge perceptions and strengthen communities locally and globally.
"Being part of the Games has made an enormous difference to Hugo's confidence and independence, staying with the team for the 8 days amongst peers where he was just another elite athlete and treated with respect was amazing," said Louise Taheny (Hugo's mother).
Hugo was quick to learn that being an elite athlete has its advantages and also it's disadvantages. Having just won his Gold medal Hugo received a tap on the shoulder from the Australian Sport and Drug Agency official as he had been selected at random to undertake a drug test.
Hugo was born with Down syndrome, he also is officially blind, hearing impaired and has a major heart defect. With all of these challenges ahead of him staying independently with the team is also a significant step for Hugo's family. However with the support of the team officials Hugo and his family were able to overcome these challenges and provide the supportive environment for Hugo to succeed on and off the track.
On returning to Point Turton the response from the local community has been amazing, they have been there for the journey, they helped Hugo get to the Games and they have shared in his achievements. He has spoken at various community groups such as Lions and Lioness' club meetings.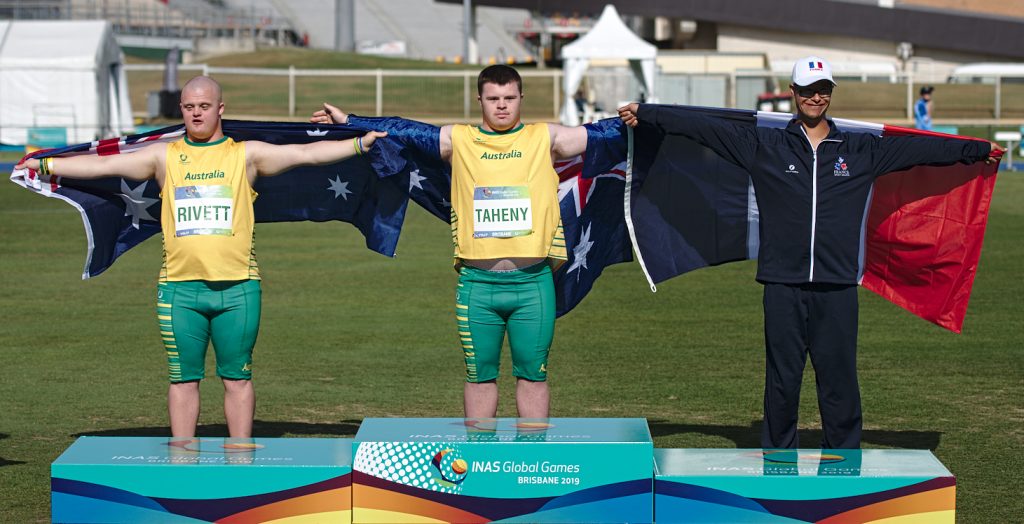 Since the Games, Hugo has completed Year 12 at Yorketown Area School where he was awarded the Senior Sportsperson of the Year award for the second year. He is keen to continue his athletics and personal journey and with the support of his family and the community looks to continue to be a positive advocate for people who live with a disability within the community.
In January Hugo was acknowledged by the community as their "Young Citizen of the Year".
Hugo may well tell you his highlights might be winning Gold, standing on the victory Dias with hand on heart and the National anthem being played in your honour, being interviewed by the media or sitting in the pilots seat on the flight home. But for his parents and family who are bursting with pride at his achievements it is also the personal growth the resilience, courage and commitment that Hugo has shown that are the highlights.
For Games organisers who set ambitious targets to change attitudes, challenge perceptions and strengthen communities locally and globally, it is athletes like Hugo who have helped them to achieve these goals.