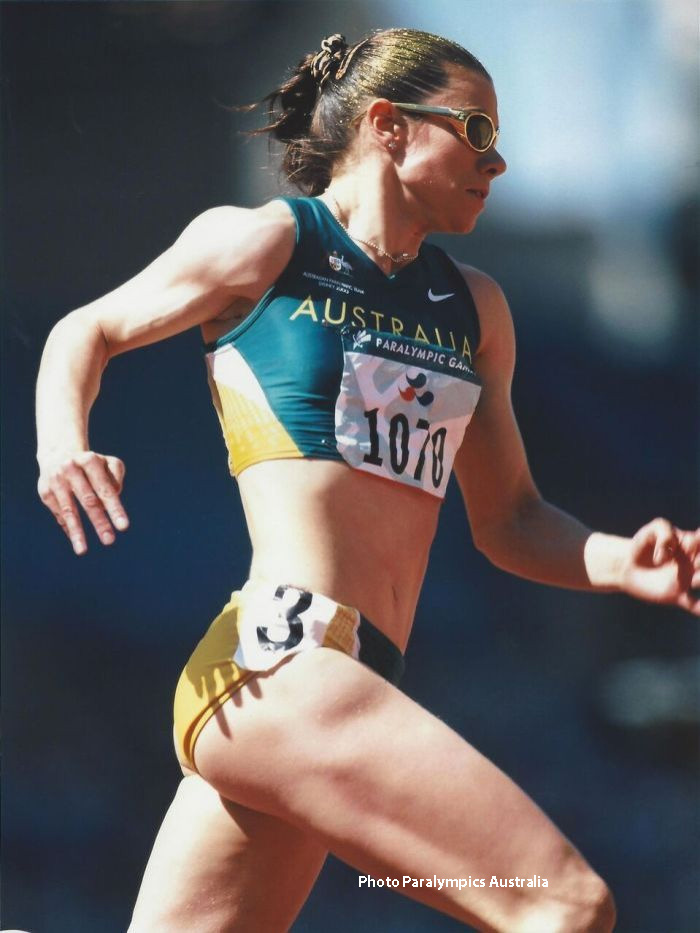 If Siobhan Paton was the Queen of the Pool, then fellow ACT athlete Lisa Llorens was our Queen of the Track.
Lisa developed an interest in high jump while at primary school, so it was off to little athletics she went and so began a journey that has seen her travel the world, win multiple gold medals, set World records, learn life skills and brought her many rewards.
The journey started like it does for so many athletes in primary school, then little athletics, high school and senior athletics.
It was during an Athletics ACT competition in 1993 that Lisa recorded a performance in the high jump that was better than the current World record.  It seems strange to suggest that this talented young 15 year old was a potential Paralympic athlete, after all she was already the best in the world in her event.
Lisa became involved in the Athletics Australia Paralympic Preparation program, a year later she was off to Berlin for the World Championships where she finished 2nd in the 200m and long jump events. In 1996 she travelled to Atlanta with training partner Sharon Rackham for their first Paralympics to compete in the 200m and long jump events.  Rackham won the 200m with Lisa third.  The long jump would see this potential Paralympian not only become a Paralympian within three years, but a Paralympic Gold medallist.
1997 saw Lisa win 4 Gold medals in the 100m, 200m, long jump and high jump events in Birmingham.  In 1998 she won three World Championship events in the 100m, long jump and high jump.  1999 she travelled to Seville, Spain for the Virtus World Championships, Lisa won the 200m, the long jump and the high jump and finished second behind Poland's Margorzata Kleeman in the 100m.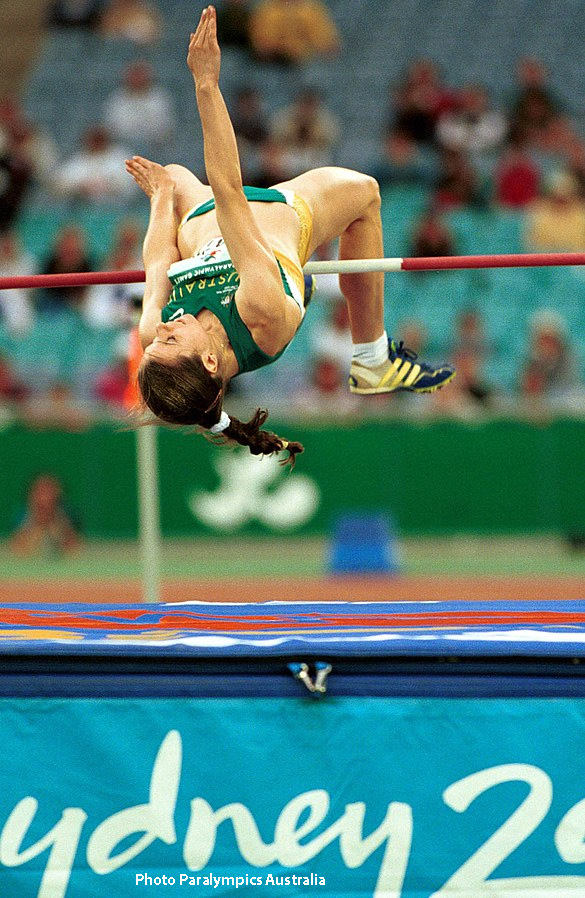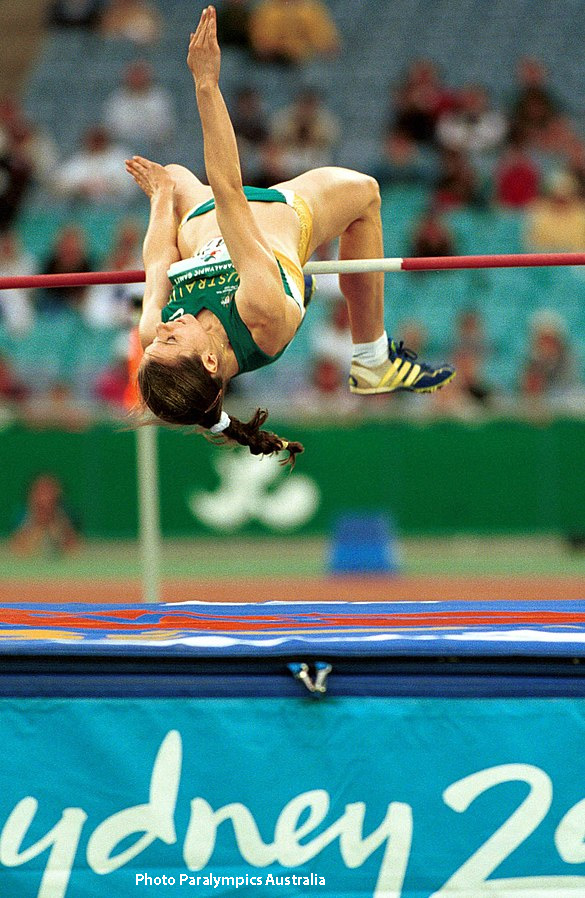 By the time the Sydney 2000 Paralympics had come around Lisa Llorens was a champion athlete she had travelled the world, won world titles and was the World record holder in the 100m, 200m, high jump and long jump.
Lisa's first event in Sydney was the 100m she was up against Margorzata Kleeman from Poland. There were no preliminary rounds and Lisa was determined to make amends for her loss a year earlier in Seville.  Starting in lane 9 Lisa got off to a slow start finding herself 5 metres  behind Kleeman after 50m. Lisa finished strongly and amazingly recorded the same time as Kleeman 12.42, but on the photo finish was shown in second place, just thousands of a second separating these two amazing athletes.
The 200m saw Lisa a clear winner with Rackham second, competing in the Long jump she broke her own World record 3 times again a clear winner.  But it was in the High jump, her favourite event that started this journey that Lisa almost suffered a surprise loss.
"I was in a tie with Kazumi Sakai from Japan, I was under a lot of pressure from people expecting me to win gold, Sakai was much smaller than me so I couldn't let her beat me." Lisa said
Lisa did win but by the smallest of margins in a high jump just 1 cm, Lisa clearing 1.54m with Sakai 2nd with 1.53m.
The home Games were an amazing experience for Lisa "It was totally amazing, it was home in Australia, it was like nothing else I had ever experienced in my life, being surrounded by friends.  Lisa said.
Lisa has many fond memories of the Games most importantly being treated like Olympic athletes, Lisa felt more recognised and accepted.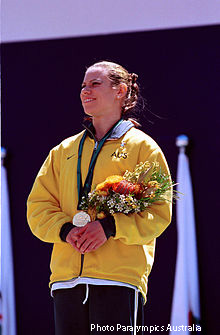 A very focussed athlete, Lisa sets herself goals to be the best she can be.  She retired from Athletics a few years after Sydney and has taken up Ballet, Archery and Taekwondo, and as she has throughout her sporting life is still driven to be the best she can be.
Lisa has an affinity with animals and the Cheetah in particular, she saw synergies with the Cheetah, speed and agility.  For several years Lisa worked and volunteered at National Zoo and Aquarium and became very attached to the Cheetahs.
Her successes in Athletics have provided Lisa with many opportunities and honours, she received an OAM in 1997 and was named ACT's Young Sportsperson of the year.  In 2016 she was inducted into the Virtus Hall of Fame.
 "Sport has taught me many lessons, my successes have helped my self esteem which plays a big part in how you feel and how you treat others.  When you feel good about yourself you treat others better and make friends easier" Lisa said.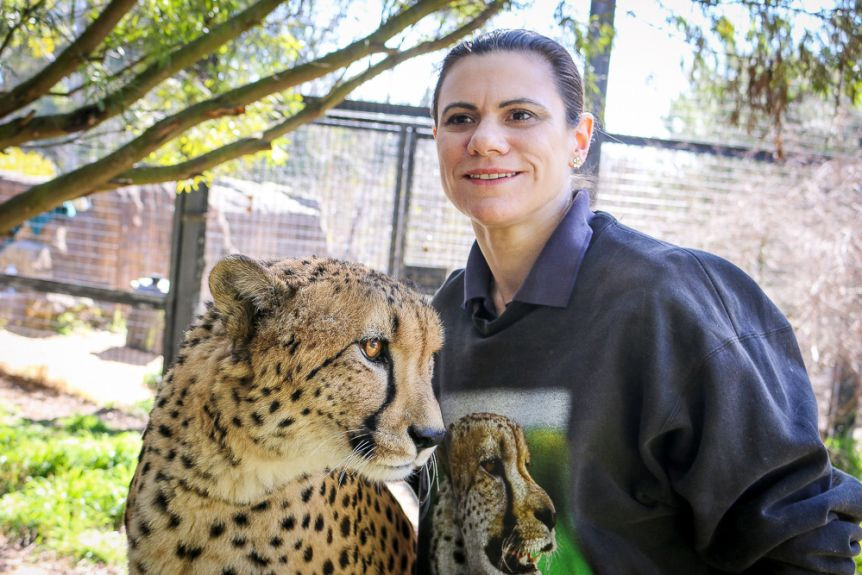 Lisa's performances have stood the test of time, she still holds the Virtus World record for the 200m and Australian records for the 100m, 200m, long jump and high jump events.  Whatever turn Lisa's journey takes her on, you can be assured Lisa will still be driven to be the best she can be.