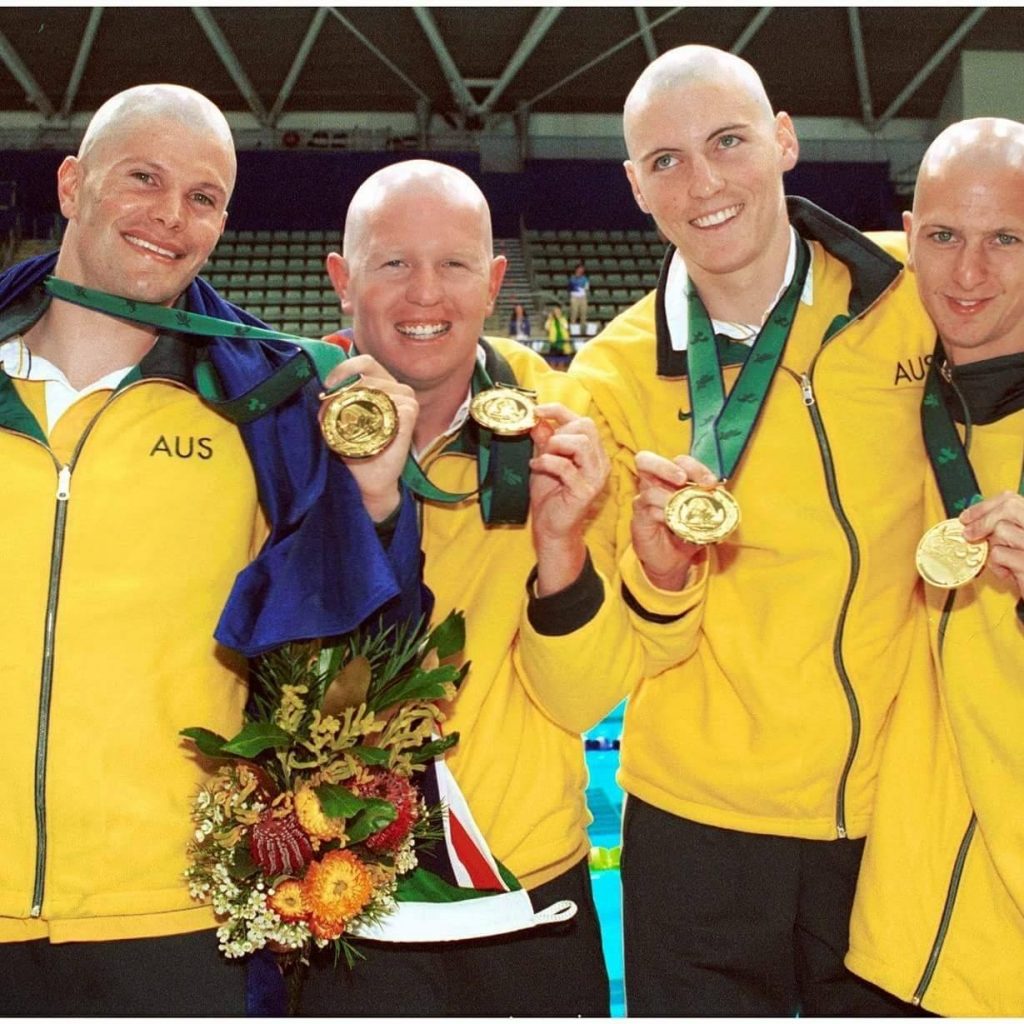 The Sydney Olympics may have had the air guitar playing Australian 4 x 100m freestyle relay team, but the Sydney 2000 Paralympics had the awesome amigo's.
Brett Reid, Paul Cross, Patrick Donachie and Stewart Pike represented Australia at the 2000 Paralympics in swimming.  Paul and Brett were the experienced members of the team, they competed at the 1996 Atlanta Paralympics and 1998 IPC Swimming World Championships in Christchurch.  For Stewart and Patrick, it would be their first major international experience wearing the Green and Gold.
The four swimmers, from very different backgrounds, all came together for the first time in Sydney.
Growing up in a swimming family it wasn't surprising to see Brett in the pool from an early age with his mother as his coach, his first Nationals were in Perth in 1993.  That same year Paul Cross took up swimming and the following year he too was competing at Nationals.  In 1996, they travelled to Atlanta together for the 1996 Paralympics and then Christchurch for the 1998 IPC World Championships.
Around that time a rather energetic and adventurous Stewart Pike was encouraged to take up a less dangerous sport by his parents.  Thankfully for Stewart he chose swimming, his first competition was the 1996 Pacific School Games in Perth where he met Paul.   While Paul was off to the Paralympics, Stewart was slowly making a name for himself and breaking Paul's National age records.
Patrick on the other hand had been in the pool through all of this, he started early with learn to swim classes, progressed through stroke correction, club and squad training.  In 1995, he competed in his first multi class event and in 1996 progressed to the state championships.
1998 was the turning point for these swimmers, Stewart had joined Paul and Brett as a member of the Australian swim team the Dolphins, he travelled to England and competed in his first international swim meet.
Patrick was just hearing about the Paralympics and the fact that he could be part of it.  He had a choice to make, was he going to take up swimming or Tennis.  The lure of the Paralympics was too much and swimming won out.  Patrick's first Nationals were in 1999, it was his first real test and chance to impress selectors.
Paul, Stewart and Brett had established themselves and had the making of a competitive relay team for the Paralympics, but a fourth swimmer was needed.  Thank fully for the young 17 year old from Campbelltown selectors looked his way.
The Netherlands were the World record holders and favourites, but this team was determined to take their crown.  "We had to do it for our families and everyone that has supported us and had faith in us" they said.  They were prepared to leave no stone unturned or let any hair follicle get in the way.
Day 5 of the Games (23 October) started like all others, then the news broke that the team from the Netherlands had not checked in and were out of the relay.  This didn't unsettle the relay team, they were ready whether the World Record holders were there or not, and they still had a surprise for their opponents, coaches and families.
Earlier that day, all four swimmers had shaven their heads.  The freshly shaven scalps signalled to the world that this team meant business and were going to leave no stone unturned in their pursuit of Paralympic Glory.
Brett got the team off to a great start, they were in third place less than a length behind Great Britain and Russia as he changed over to Paul.  The team from Great Britain were out in front but Paul was focussed and the Aussies were coming, a great turn at 50 saw Paul move alongside the Russian swimmer and a strong finish we were a clear second and within half a body length of first.  Paul changed to Patrick who soon moved the team alongside the team from Great Britain and as he turned for home the Australian's were in the lead.  Stewart entered the pool in first place and extended the lead anchoring the Australian team to a Gold medal and a World record.
It was a special moment for the four young men.  It was the first time Paul's father had seen him swim, he sadly passed away 2 months later.
"We were a team and no way we would have broken the record if we weren't."  Paul said.
Paul now lives on the Gold Coast and is heavily involved with local football.
"Brett Reid, Paul Cross, Stewart Pike and myself created the most memorable win of our lives that I assure has gone down in Australian history. I remember that year, the race and the marvellous Games that was the Sydney 2000 Paralympic Games. It did give me a platform of many successes in and out of swimming in Australia and around the world after the Games had finished. " Patrick said
Brett Reid continued swimming and retired after the 2004 Virtus World Championships. Swimming still plays a big part in Brett's life as he works at the Melbourne Sports and Aquatic Centre.
While Stewart retired not long after the Games, the impact the Games and lessons learnt from swimming  has had a profound impact.  "I was picked on a bit by my mates as they couldn't see my disability, Swimming wasn't my choice it was my saviour – it has changed my life. I am not the joker I used to be I am now more responsible, married, a devoted father of two children and working two jobs." Stewart said.
Looking back the 4 swimmers shared many memories of the Games, the friendships, food, Bruce the Moose And importantly the respect.  "We were all members of the Dolphins,  we were athletes not people with a disability, recognised amongst the best Olympians, Paralympians and world record holders, it  was amazing feeling" they said.
Now living in Queensland, Stewart enjoys discussing his past achievements with another Australian swimming legend and fellow Dolphin – Tracy Wickham who just happens to live next door.
Brett Reid, Paul Cross, Patrick Donachie and Stewart Pike, shared a special moment during the Sydney 2000 Paralympics that has bonded these 4 swimmers together as friends (Amigo's) for life.  Wherever their lives take them they will always be connected by that Gold medal and World record breaking performance.  The Awesome Amigo's.