Sport Inclusion Australia acknowledges International Day of People with a Disability and acknowledges the theme for 2021 which is 'Leadership and participation of persons with disabilities toward an inclusive, accessible and sustainable post-COVID-19 world'.
With more than 4.4 million Australians living with a disability, today is an opportunity to focus on the work of those who strive to make a more inclusive, understanding and supportive society.
Sport plays an integral role in developing a more inclusive society, it can provide the platform to showcase ability and develop understanding.  As we move into a post-covid-19 world, sport can once again take leadership in this area helping athletes reconnect to their community and all the health benefits that come with it.  For many people living with a disability fear of Covid-19 has seen a decline in their physical and mental health as they isolate to stay safe and watch sporting event after sporting event be cancelled.  As vaccination rates increase and restrictions are removed we can now start to focus on getting back into sport and planning for events and re-engaging with the community.
Sport Inclusion Australia looks forward to watching the athletes back in action and applauds the sports that have worked hard throughout Covid to provide competition and support.  It is exciting to see events on the horizon and watching the athletes start to take centre stage again.
One athlete who has wasted no time getting back into action is South Australia's Hugo Taheny.
In 2019 Hugo represented Australia at the 2019 Virtus Global Games in the new II-2 class winning a Gold medal in the Discus and Silver in the shot put.  In 2020 Athletics Australia also introduced the new class which provided a fairer competition for athletes with Down syndrome.  At the National Championships in April this year Hugo won his first National title the Open Men's Ambulant Discus and a Silver the ambulant Shot put.
Like most athletes Hugo's journey has been disrupted by Covid-19 with lockdowns, restrictions and earlier this year Hugo had an adverse reactions to his vaccinations resulting in trips to hospital.  Thankfully for Hugo he has recovered and his desire to get back into competition has helped him to focus away from Covid-19 and given him something to look forward to.  Hugo's success in Athletics has been rapid and a result of hard work, good coaching (Thank you Steve Larsson) and great family and community support.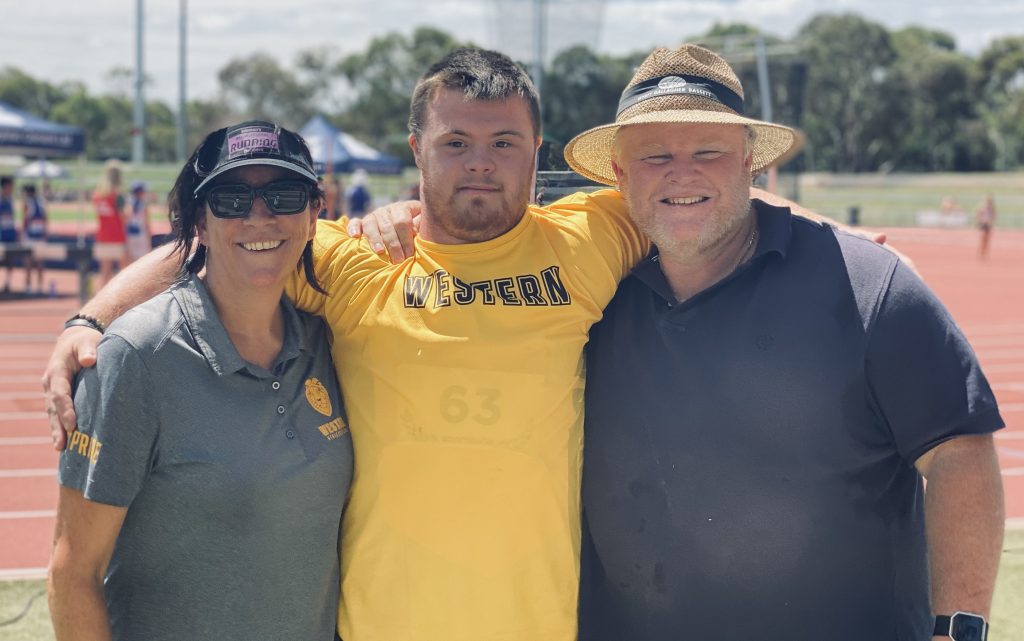 Hugo lives in regional South Australia, competition days start with a 4+ hour drive to Adelaide and finish with another 4+ hour drive home.  On the 6th of November 2021 that drive home was a lot more enjoyable than most.  Hugo started the day as Australia's leading F21 Shot putter and Discus thrower, but by the end of the day Hugo had become the World's best F21 Discus thrower having thrown the discus 31.33m.  Three weeks later he added the Australian and Oceania records for Shot put to his growing list of achievements.
Away from the track Hugo is a Down Syndrome Australia Health Ambassador.  As a Health Ambassador Hugo's role is to increase public awareness and understanding of people with Down syndrome.
On a day that aims to increase public awareness, understanding and acceptance of people with disability and celebrate their achievements and contributions its hard to go past Hugo Taheny.  Hugo's epitomises the theme for 2021 'Leadership and participation of persons with disabilities toward an inclusive, accessible and sustainable post-COVID-19 world'.  
Congratulations Hugo and thank you to all who work to support athletes like Hugo across all sports and communities.
"Happy International Day of People with a Disability."
Contacts
Robyn Smith, CEO Sport Inclusion Australia. 0418 979 459
Hugo Taheny, via Sport Inclusion Australia, sport@siasport.org or  0414 733 339