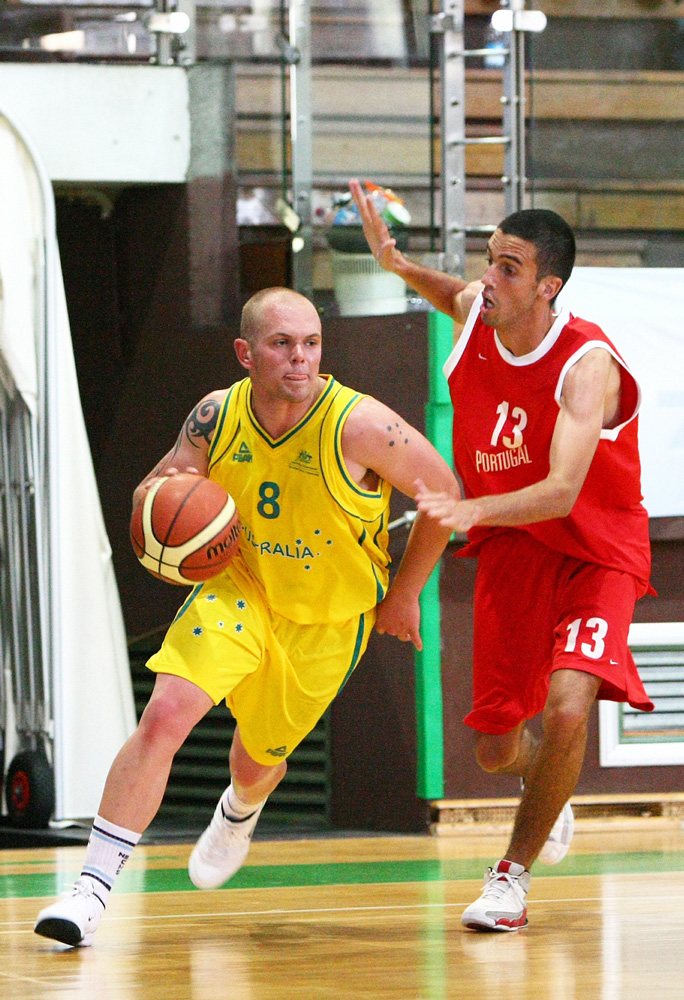 The Australian Men's Basketball team for players with an intellectual disability (Boomerangs) will return to Loano Italy for the 2017 INAS Basketball World Championships in November.
The Boomerangs last played in Loano in 2011, where they finished fourth losing the Bronze medal playoff to Portugal 46-79.  This year they will return with a completely new team.  Led by the 2013 INAS World Championship Bronze medallists: Jarrod Thomson (VIC), Joshua Cleary (TAS), Bradley Kinross (SA) and Wayne Kinross (SA) the Boomerangs will be looking to improve on their last result in Loano.
The team has had a great preparation with a tour to Japan, the Ivor Burge Championships in Bendigo and the 2017 Queens Birthday Long Weekend Tournament in Melbourne along with several training camps.  "This time together has been invaluable for the team, both in allowing players to gel as a team and for the coaches to appreciate the players strengths and combinations." said Simon Robinson Boomerangs Head Coach.
Other players to make their way into the team include: 2015 Global Games representatives Frazer Dawber (VIC), Justin Koenig (ACT) and Jake De La Motte (VIC) along with team debutants James Myers (VIC), Dylan Pace (TAS), and Jack Littleton (ACT).
De La Motte stood out at the Ivor Burge Championships in Bendigo, while debutantes Myers and Pace impressed with outstanding performances at the 2017 Queens Birthday tournament and the 2016 tour of Japan.  ACT's Littleton's size and strength will come in handy against the larger European teams.
"There is a good blend of experience and youth in the team and after just missing out on a medal in Ecuador they will be keen to go one better this tournament" Simon Robinson
While the Boomerangs are currently ranked 6th in the World they have never been far from the medals having reached the medal round in half of the Championship tournaments since 1992, winning Bronze in Portugal in 1996 and Turkey in 2013.
Team      
Frazer Dawber       (VIC)
Jake De La Motte   (VIC)
James Myers           (VIC)
Jarrod Thomson     (VIC)
Brad Kinross            (SA)
Wayne Kinross       (SA)
Dylan Pace               (Tas)
Joshua Cleary          (Tas)
Justin Koenig           (ACT)
Jack Littleton           (ACT)
Staff
Head Coach:           Simon Robinson (VIC)
Assistant Coach:    George Havakis (VIC)
Tech Asst Coach:   Justin May (VIC)
Medical:                   David Taylor (VIC)
Manager:                 Trish Currie (VIC)
Contacts
Simon Robinson: Boomerangs Head Coach 0416 293 021
Robyn Smith: CEO Sport Inclusion Australia, 0418 979 459
Jan Stirling: General Manager, High Performance and Teams Basketball Australia – 03 9847 2302
Boomerangs Championship Results
| | | | |
| --- | --- | --- | --- |
| Year | Event | Location | Placing |
| 1992 | Paralympics | Spain / Madrid | 8th |
| 1994 | Inas World Champs | Greece / Athens | 5th |
| 1996 | Inas World Champs | Portugal | 3rd |
| 1998 | Inas World Champs | Brazil / Sao Paulo | 5th |
| 2000 | Paralympics | Australia / Sydney | 6th |
| 2002 | Inas World Champs | Portugal / Madeira | 4th |
| 2004 | Global Games | Sweden / Bolnas | 5th |
| 2006 | Inas World Champs | Japan / Yokohama | 4th |
| 2009 | Global Games | Czech Republic / Liberec | 5th |
| 2011 | Global Games | Italy / Loano | 4th |
| 2013 | Inas World Champs | Turkey / Ankara | 3rd |
| 2015 | Global Games | Ecuador / Guyaquil | 4th |