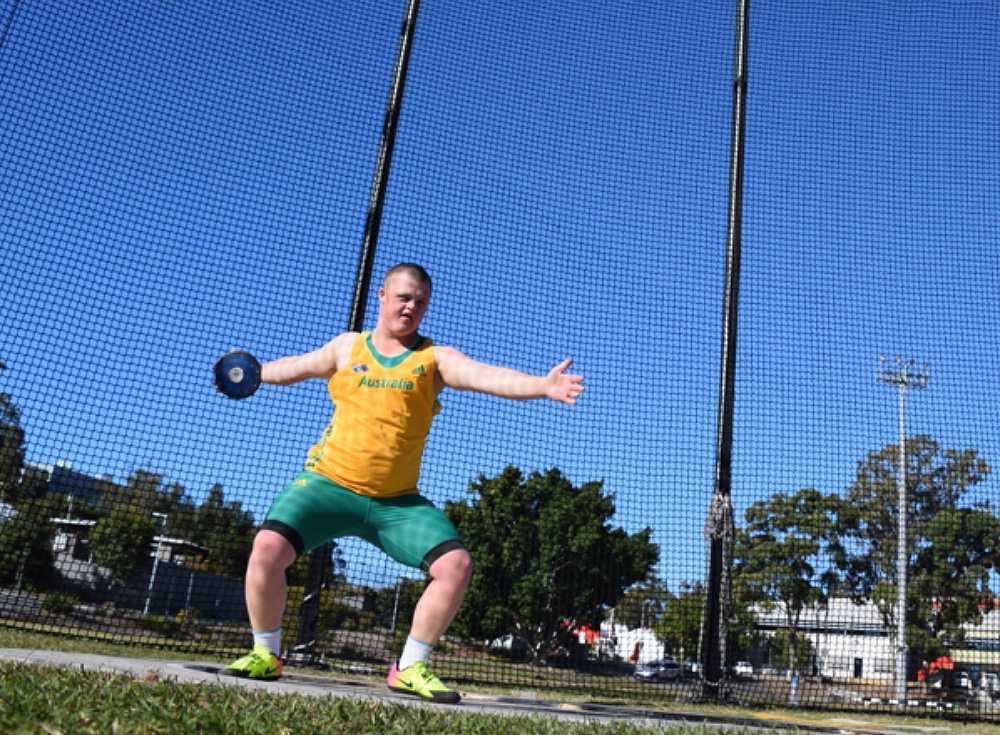 Brisbane's Andre Rivett has been selected to represent Australia at the 2017 SU-DS Athletics World Championships for athletes with Down Syndrome.  Rivett will be Australia's first representative at the Championships which will be held from the 12th to the 16th of October in Porto Portugal.
A member of the QE II Track Club, Rivett competes regularly at Queensland Athletics competitions throwing senior weights in all of his throwing events.  For the SU-DS Championships Rivett will throw lighter weights and has had to adjust his training over the past 3 months to compensate for this change in weight, thankfully for Rivett Queensland Athletics has supported him in his preparation allowing him to throw the lighter weighted implements in recent competitions.
Rivett's last 4 competitions has seen him set a number of personal bests in each of his throwing events and will go into the Championships in Portugal full of confidence.  Rivett's last competition prior to the Championships was at Ipswich last weekend and saw Rivett throw a huge personal best throw of 23.14m in the Discus.
Based on previous SU-DS Athletics results, Rivett's performances with the shot put and his recent personal best throw with the Discus have him in contention for a medal in both, with his javelin results suggesting a top 8 finish.
This will be Rivett's second competition representing Australia having represented at the 2016 Melanesian Games in Suva, where he also competed in the Shot put, discus and javelin events.  Whilst not medalling in Suva, Rivett recorded personal best throws for shot put and javelin events.
Introduced to athletics by his sports teacher, Mrs Porter at Kuraby Special School, Rivett has competed in and trained for a number of sports, but has focussed solely on athletics for the past 6 years.  Since setting his sights on the Championships in Portugal Rivett has committed to his training program which sees him and his family make the one hour trip from Logan to the Gold Coast to train under throws coach Brett Green twice a week along with regular gym and track sessions back in Brisbane.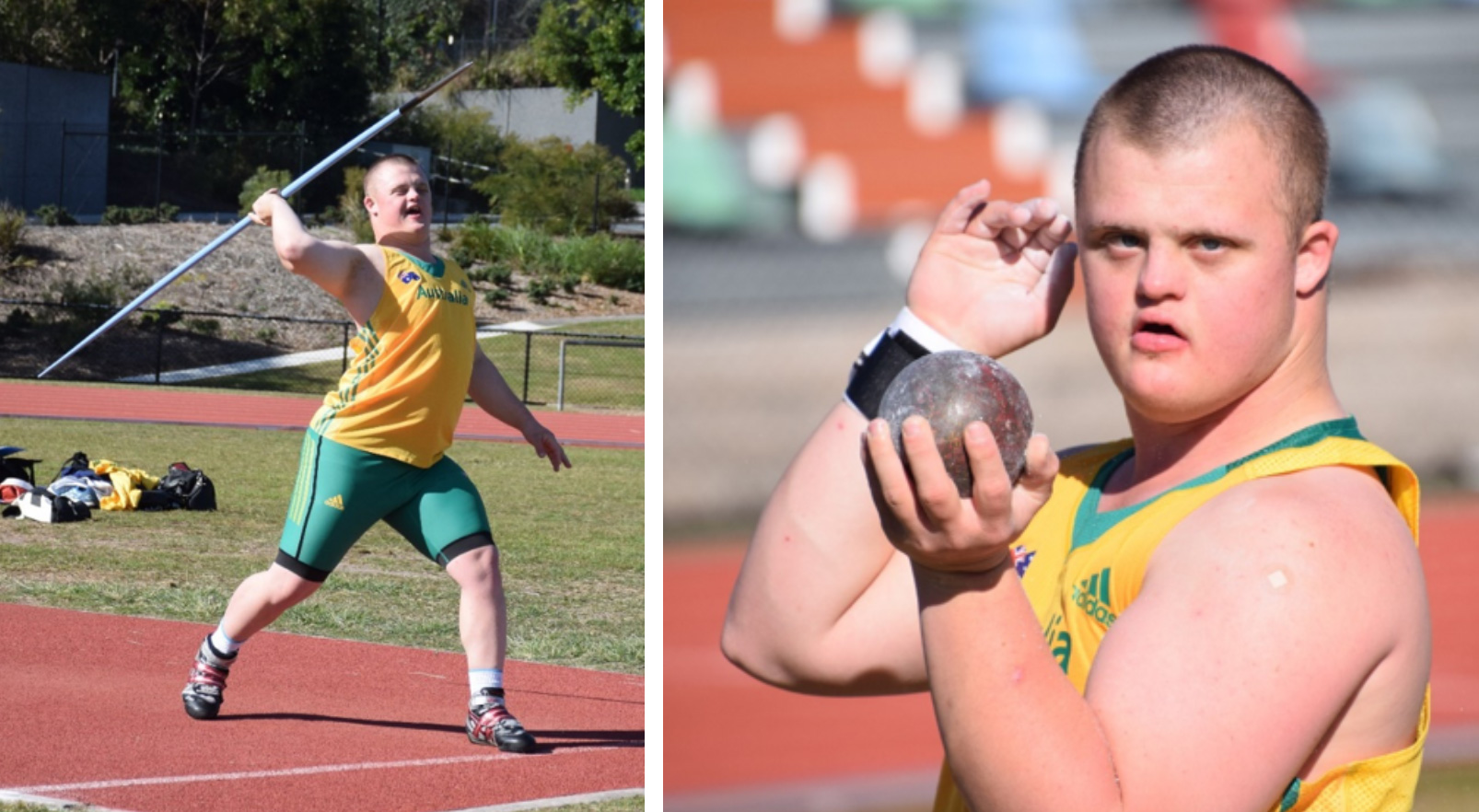 "The opportunity for Andre to represent his country is amazing, it has had an impact on Andre's athletic performances and also his self esteem.  He is well recognised by other throwers and athletes who have all been very supportive."  Steven Rivett said.
Rivett will be accompanied by his parents Steven and Christine who will fill the roles of Coach and Manager.  Team Rivett departs on the 9th of October with the Championships to be held from the 12th to the 16th.
A self funded trip, the Rivett's have been fortunate to have support from father Steven's employer Road Gear Australasia,  who have not only approved Steven's leave to attend the Championships, but have also covered Andre's costs.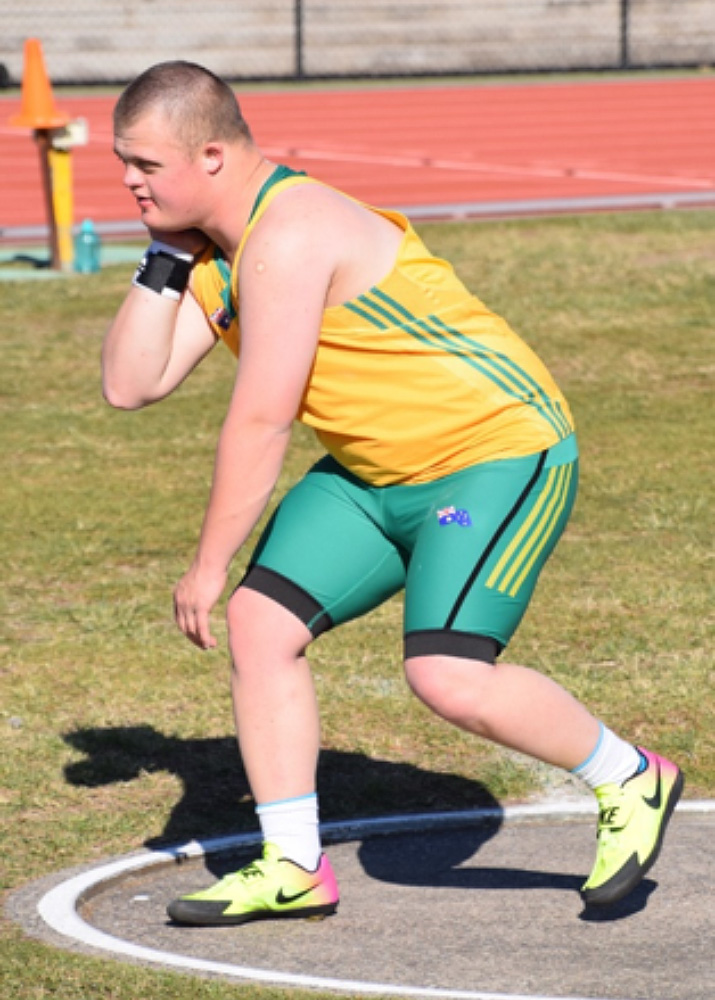 Sport Inclusion Australia has traditionally worked with National and State sporting organisations to provide an opportunity for people with intellectual impairment, ensuring that sport is for all Australian's.  A recent change has seen Sport Inclusion Australia expand its charter beyond the World health Organisations definition of intellectual disability to now include athletes with high functioning autism and significant additional impairments, e.g. down syndrome. This change has resulted in an opportunity for athletes with down syndrome to compete at the SU-DS Athletics Championships, and also upcoming INAS events.
The upcoming INAS Table Tennis and Swimming Championships will include for the first time athletes with down syndrome.  INAS is the International Federation for athletes with intellectual impairment.
For more information on sporting opportunities for people with down syndrome or intellectual impairment in Queensland please contact Chantel Lewis at Life Stream Australia on 07 3394 4399
For more information on Athletics please contact Queensland Athletics on 07 3343 0900
Contact