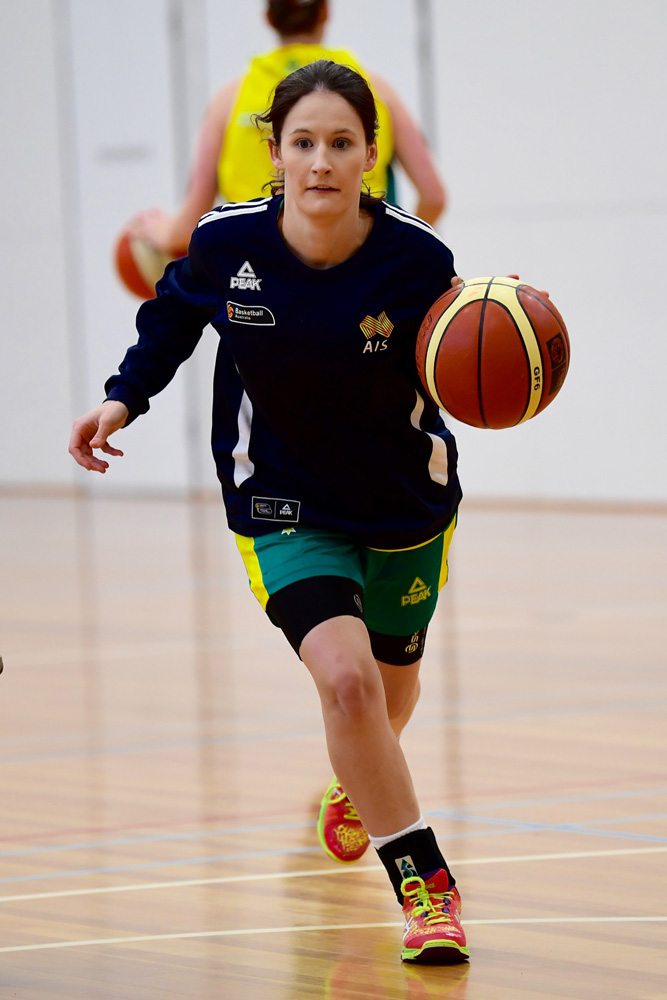 Basketball Australia have announced the 10 players selected to represent Australia (The Pearls) at the 2017 INAS Basketball World Championships in Loano, Italy in November.
The Championships for players with an intellectual impairment will see the Australian Pearls competing for the first World Championship 3×3 title.  The Australian Pearls already hold the Global Games 3×3 title which they won in Ecuador in 2015.  Australia will take two teams of 5 players each to Italy for the three on three competition.
The Australian Pearls first played the 3 on 3 format when it was introduced at the Global Games in Ecuador in 2015 coming away with the Gold and Bronze medals, adding to their unique history of achievements of having medalled in every international competition for the last 15 years.  Ranked number 1 in the world in both formats of the game the Australian Pearls are current INAS Global Games Champions (5×5), INAS World Champions (5×5) and INAS Global Games Champions (3×3).
"The 3×3 format is expanding in popularity around the world with many World Championship now playing this exciting format of the game we love.  The rules for 3×3 make the game very fast, very physical and really exciting as a spectator sport." said Sally Duncan Australian Team Manager. The 3 on 3 competition format made its international debut at the 2010 Youth Olympics in Singapore and was labelled the "Hottest ticket in Town".
The INAS World Championships will be in Italy (19th – 28th November), in Loana.  The Australian Pearls are looking forward to the 2015 Gold medal rematch against Japan as well as other teams from France and the USA.
The Australian teams were selected following their last training camp in Melbourne on the weekend of 19-20 August, and with so many talented players in the squad, making the final cut to 10 was a difficult task. "The determination and commitment shown by the squad members has made it very difficult to select the final 10 players, and all of those trying out should be very proud of their contribution.  I wish we could take them all."  Larry Davidson (Head Coach).
The two teams will consist of some very experienced players matched with fresh young talent.
"Senior players such as Mills, Perry, Urguhart-Moran, Papworth and Harris will provide the core structure of our two teams.  Our younger players on their second / third tours will bring another level of energy and excitement into the two teams."  Davidson said
All players have represented Australia before, making this Australian Pearls team very rich in talent and international experience.
The 10 players selected to represent Australia at the 2017 INAS Basketball World Championships are:
Kim Perry (NSW)
Eliza Mills (NSW)
Nicole Harris (NSW)
Molly Urquhart-Moran (VIC)
Kaitlyn Papworth (VIC)
Kate Leckenby (VIC)
Jess McCulloch (VIC)
Evie Patterson (VIC)
Brittany Anderson (ACT)
Amy Howard (SA)
Staff
Head Coach: Larry Davidson (NSW)
Team Manager: Sally Duncan (VIC)
Assistant Coach: Jo Larkin (VIC)
Physio: Dave Taylor (VIC)
Contacts
Larry Davidson, Head Coach: 0417 469282
Sally Duncan, Team Manager: 0418 369061
Robyn Smith, CEO Sport Inclusion Australia: 0418 979 459
Jan Stirling, General Manager, High Performance and Teams Basketball Australia: 03 9847 2302
PEARLS COMPETITION HISTORY
WOMEN – Pearls
| | | | |
| --- | --- | --- | --- |
| Year | Event | Location | Placing |
| 1992 | Paralympics | Spain / Madrid | 1st |
| 1994 | INAS World Champs | Greece / Athens | 2nd |
| 1996 | INAS World Champs | Portugal / | 2nd |
| 1998 | INAS World Champs | Brazil / Sao Paulo | 3rd |
| 2002 | INAS World Champs | Portugal / Madeira | 3rd |
| 2004 | Global Games | Sweden / Bolnas | 3rd |
| 2006 | INAS World Champs | Japan / Yokohama | 2nd |
| 2008 | INAS World Champs | Italy / Rome | 2nd |
| 2009 | Global Games | Czech Republic / Liberec | 2nd |
| 2010 | INAS World Champs | Portugal / Tondela | 1st |
| 2011 | Global Games | Italy / Loano | 1st |
| 2015 | Global Games | Ecuador / Guyaquil | 1st and 3rd  |
| 2017 | INAS | Italy / Loano | ?? |