As a young girl growing up in regional Victoria with 5 sisters and a brother, Caytlyn Sharp didn't get a lot of choice, on which sport she was doing on the weekend. The family did Little Athletics and in those early years, Caytlyn is the first to admit she hated it and wasn't backward in letting people know.
You see Caytlyn also has autism, and it was the sensory side of autism that dominated Caytlyn's early years, the smell of fresh cut grass, crowds yelling and cheering, clapping and the fright of the starters gun.  Most athletes thrive on the cheering and clapping, but for a young girl with autism these can be extremely hard to handle.
Even today the 2017 INAS High Jump World Champion is challenged by excessive cheering and clapping.
"Its hard for Caytlyn to get away from the cheering and clapping as these are integral to sport and Caytlyn's events in particular." Said Caytlyn's mum Cindy McDougall.
"We work on this at training and make every effort to familiarise ourselves with the venues prior to competition when Caytlyn travels" McDougall said.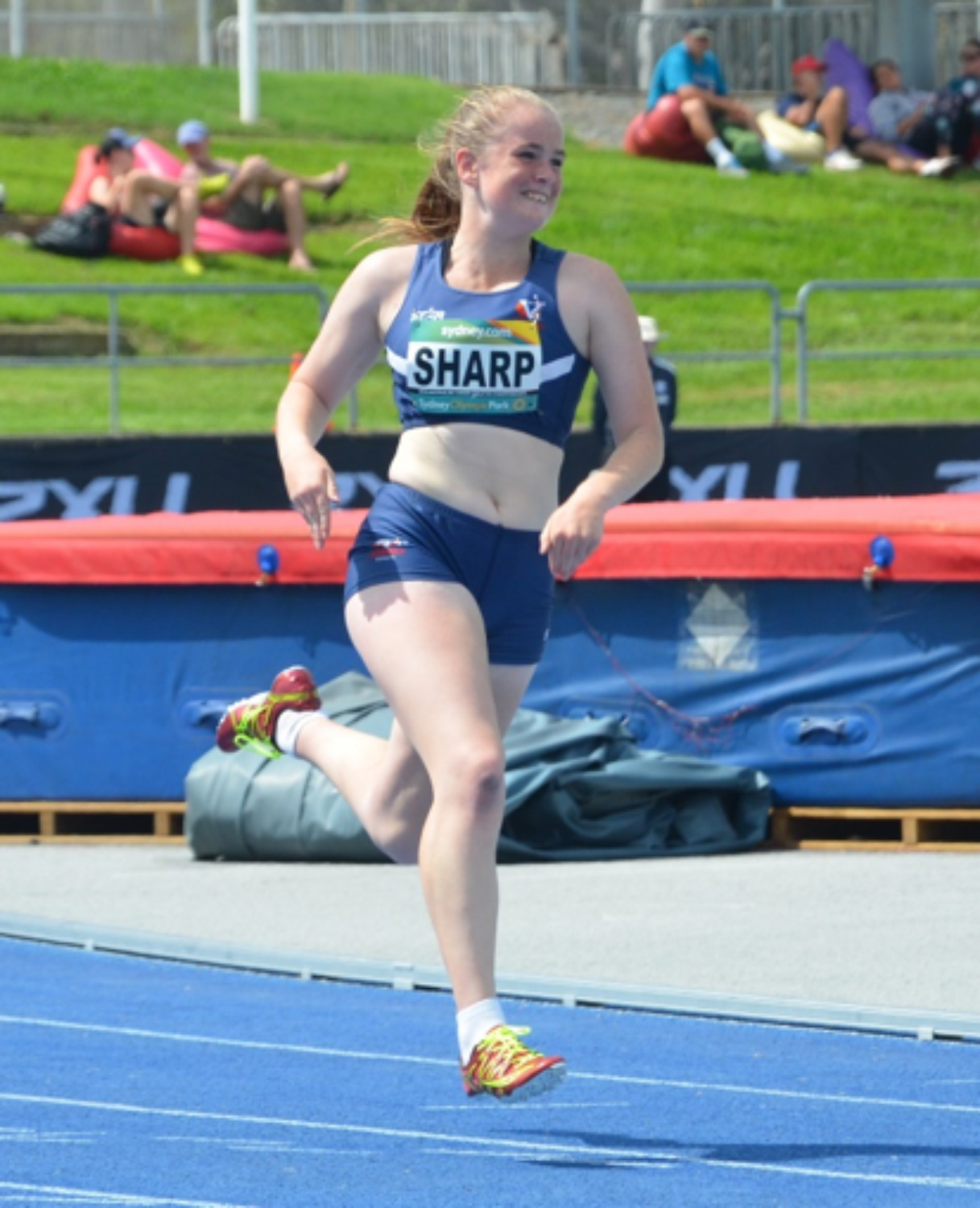 Little athletics has actually proven to be the ideal sport for Caytlyn, she soon came to love the sport and with the focus on personal bests, she soon learnt to shut out other distractions.
In a short time frame, Caytlyn started to establish herself as an athlete, she found success at local and regional level and qualified for State Championships, but it was at state level, that she first realised that she couldn't compete against the best able bodied athletes, coming last in most events.
There was no Para multi class events in these early years so Caytlyn competed solely against able bodied athletes. In her last competitive Little athletics year (2017/18) LAVIC has Introduced Para events at regional and state level creating a pathway for our para stars of tomorrow. Caytlyn felt privileged to be a competitor at both of these levels
In 2015 Caytlyn competed at the School Sports Victoria (SSV) State Championships and also the Australian All School Championships in multi class Para events. Caytlyn was soon to learn another very difficult lesson – "Finishing first across the line didn't guarantee a first placing".
In Multi class events every athletes performance is calculated as a % in their particular class, and it is the highest % that wins, something many athletes struggle to comprehend, but even more so when you have intellectual disability and have just broken an Australian record, and then you don't even win a medal.
After competing at the SSV State Swimming Championships the All Schools National Cross Country and Athletics Australia National Track and Field Championships that same year, Caytlyn soon began to feel at home in the Para world, training with and competing against other Para athletes some of whom were Paralympians, people started to assume that she too was destined for the Paralympics.
"I knew the Paralympic pathway was very limited and didn't include my events, which was frustrating as other athletes had choices.  If that's all that the Paralympics is offering then I don't want to do it" Caytlyn said.
The 2015 Australian All Schools became a turning point in Caytlyn's athletics career, as it was her performances here that brought her to the attention of selectors. Shortly after the Championships Caytlyn received a letter stating she had qualified for the 2017 INAS Athletics World Championships.
Caytlyn couldn't believe she might be selected in an Australian team and further that she could do her favourite events, and that she, like other Para athletes had choices.   "Does this mean that I can represent Australia and I can do any event I want, is this really a thing?" Caytlyn asked.
At the age of 14  Caytlyn Sharp represented Australia at the INAS Athletics World Championships in Bangkok. It was a lot to take in for the young athlete, representing her country, travelling overseas, away from family and friends and the fear of the unknown,  but with her coach Anula Costa and many  athletes she knew and trained with also in the team, Caytlyn was up for the challenge, a challenge mum wasn't going to let her miss.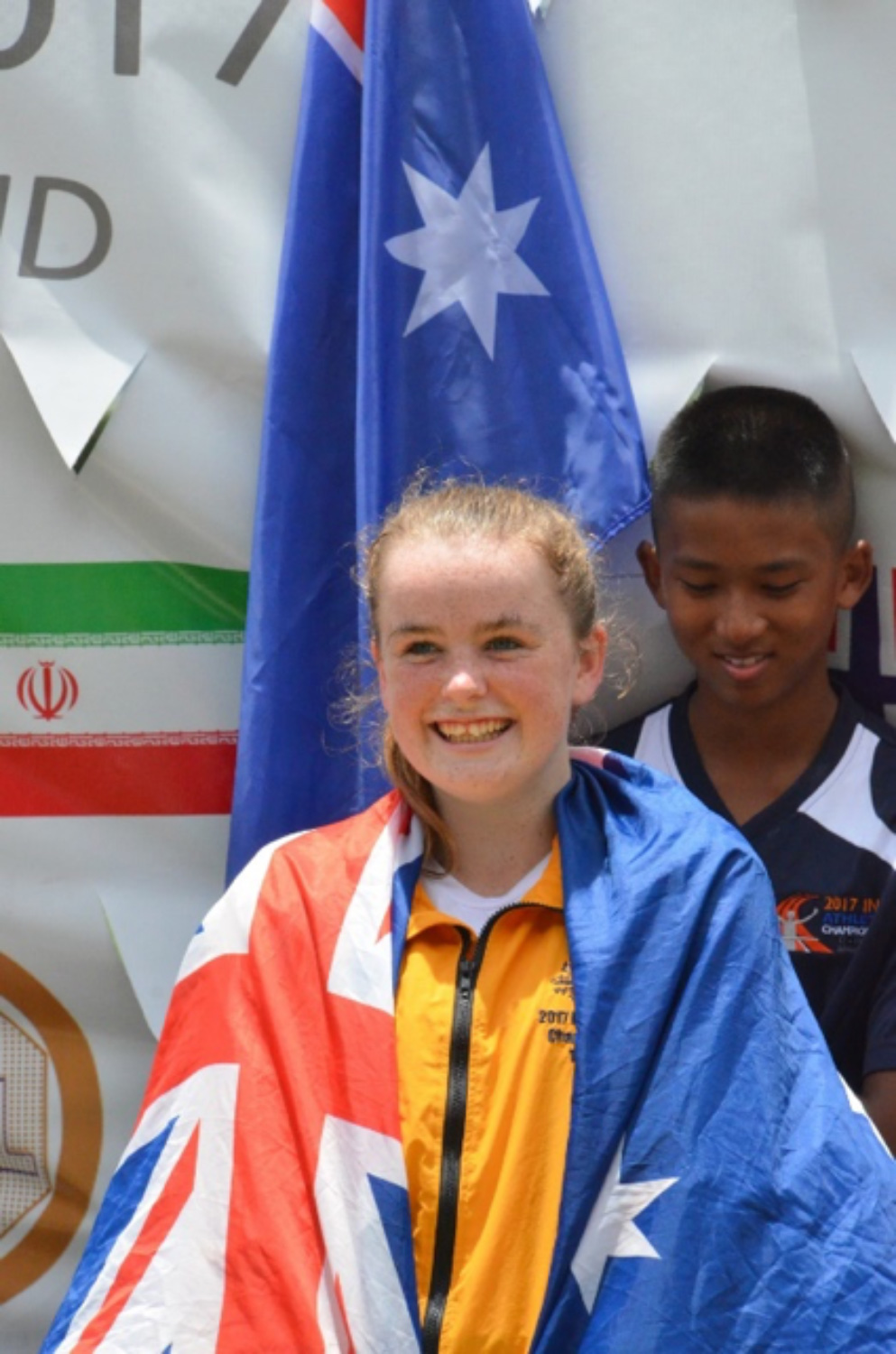 Caytlyn won her first medal, a bronze, in her very first event the triple jump, two days later she won the women's high jump and followed up with a Bronze medal in the women's 4 x 100m relay.  Not a bad effort for a 14 year old from Regional Victoria on her first trip overseas.
Returning home Caytlyn was surprised by the attention, interviews with local papers, speaking at school and local organisations such as Lions and even a radio interview after winning an award.  She really didn't like having to try to stand and talk in-front of people, who would ask her questions, and would expect her to answer them and remember everything.
Caytlyn had also been bullied at school prior to the Championships and after returning found that this just made some people more jealous and that some people didn't believe her when she said she was a World Champion.
On the positive side, a lot of younger kids look up to her in awe "You are amazing" and even asked her for autographs.  Younger sister Lynley also enjoyed Caytlyn's success and was keen to tell everyone, including strangers on the street, "that my sister represented Australia and is a world champion."
Now too old for Little A's, Caytlyn competes for Eureka Athletics club in Ballarat. "They really support multi class and don't treat me differently, but still recognise multi class athletes." Caytlyn said.
Caytlyn also mentors children at the local Terang athletics Club and Warrnambool Little athletics Centre.
Caytlyn doesn't want to be labelled as an athlete with Autism or disability, but just wants officials to acknowledge her during competition and be able to communicate with her.  At times Caytlyn can  struggle with the communication, particularly when things don't go right, shedoesn't always know what to say or who to talk to.
"I watch other athletes interact with officials during competition and I wish I could too and that they could see that I may not understand." Caytlyn said
It has been more than 12 months since she made her first trip overseas and she now has her eyes set on the 2019 INAS Global Games in Brisbane where she hopes to compete in the High jump, Triple jump, long jump and the 200m.
A member of the South West Academy of Sport, Caytlyn is now coached by former New Zealand athlete Jeremy Dixon.
The road to the Global Games in Brisbane will be a long one with and her siblings clocking up more than 700kms a week in travel to training and competition, but it's a trip that there while family are willing to take, to help Caytlyn achieve her dreams.