On this day (2 July) in 1989, a small team of 8 swimmers and 14 athletes represented Australia at the inaugural Virtus World Championships in Athletics and Swimming in Harnosand, Sweden.  The Championships were represented by 19 countries from Europe, Africa, Asia and Australia.  Australia finished 2nd on the medal tally behind host nation Sweden with 11 Gold, 7 silver and 9 Bronze medals, closely followed by Iceland.
In his opening speech at the Games, INAS-FMH Chairperson Fernando M Vicente stated. "The opportunity for success and its accolades are important to all persons and athletes with an intellectual disability should have the same right to feel good and compete according to normal rules, or as Marie Little says "the same rights as others".  This includes obtaining self confidence, status, experiencing risks, learning rules and learning to take risks."
The athletes were pioneers for todays athletes who now have the choice to compete in a wide range of sports and the opportunity to represent their country.
One of Sport Inclusion Australia's strong philosophy's is that "Sport owns Sport".  These two teams were coordinated by Sport Inclusion Australia (formerly known as the Australian Sport and Recreation Association for People with an intellectual disability), with teams nominated by Swimming Inc. and the Australian Athletic Union.  It is pleasing to see that even in these early years this fundamental structure was in place.  Today we see many more sports providing opportunities for people with an intellectual impairment to both compete and also the opportunity to represent their country based on merit.
Formed in 1986 Sport Inclusion Australia has grown from these early beginnings and today represents over 4,800 athletes competing in a wide range of Winter and Summer sports.  Athletics and Swimming remain the dominant sports which along with Table Tennis offer Paralympic competition.
"This was the start of a long history in International competition, with Australia finishing on top of the medal table in most of the Multisport events, validating our long held belief that if NSO's drive inclusion, then the standard of athletes performances rise accordingly" said Sport Inclusion Australia CEO Robyn Smith.
Australia has competed at all subsequent Virtus World Championships and Global Games in Athletics and Swimming.  In the last two years Australian athletes have competed in Virtus events in Athletics, Basketball, Cricket, Cycling, Equestrian, Futsal, Half Marathon, Rowing, Table Tennis, Taekwondo, Tennis and Swimming.  On the national stage athletes also have opportunities to compete in AFL (FIDA), Cross Country,  Indoor Cricket, Lawn Bowls, Skiing, Softball, Ten Pin bowling, Touch Football and Triathlon.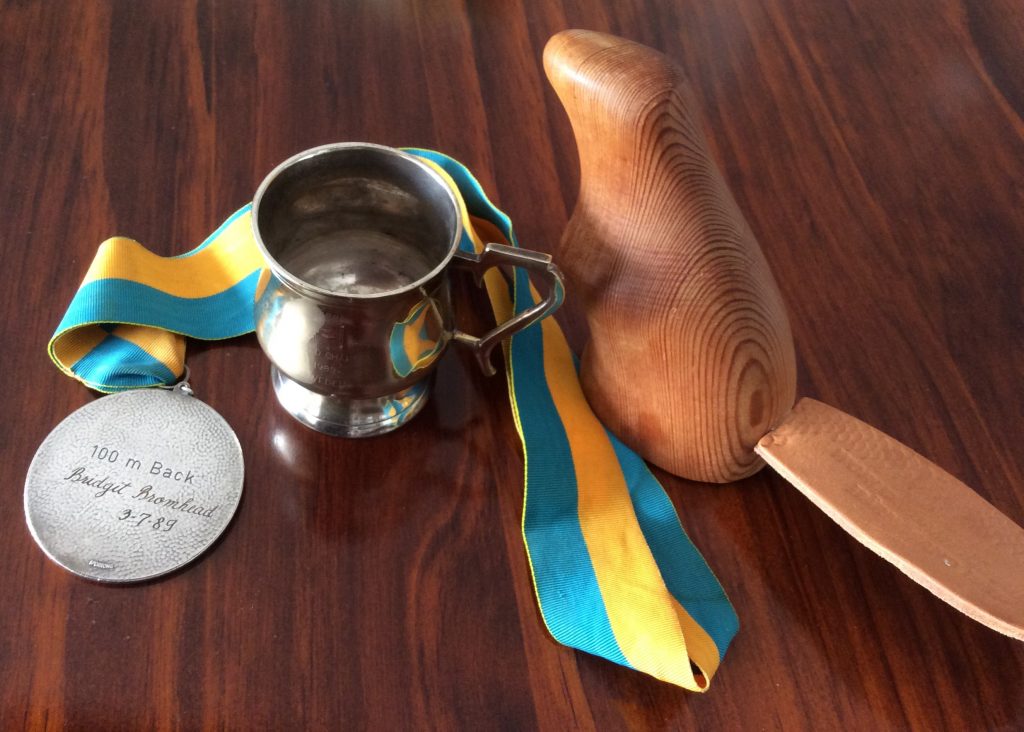 Last year in Brisbane Australia fielded a team of 162 athletes competing across 10 sports at the Virtus Global Games, the biggest and best event yet for elite athletes with an intellectual impairment with teams from 48 countries competing.  As Sweden did back in 1989, the host nation Australia dominated the 2019 Games finishing on top of the medal tally.
Today's anniversary comes during a time when we are locked down and sport is not possible for many due to Covid-19, but this provides us with an opportunity to look back at our early beginnings and acknowledge the growth in opportunities and recognition for athletes with an intellectual impairment.
"We congratulate the pioneers of the past for setting the stage for the 100's of athletes who have followed in their footsteps" said Helen Croxford President Sport Inclusion Australia.
So who were are our early pioneers, or as they referred to themselves as "the Wonders from Down Under"?
Athletics: Kaye Freeman (Qld), Jacinta Fields (Qld), Carla Nitz (Qld), Racquel Nugent (Qld), Anne Walsh OAM (ACT), Anton Flavel (WA), Wayne Baldwin (Qld), Warwick Edwards (WA), Robert Lippitt (Qld), Gerhard Little (Tas), Russell Nelligan (WA), Ken Penny (Qld), Russell Torrance (WA), Warren Rolfe (Qld), Phillip Lavell (Manager, WA), Jo Hogan (Head Coach , ACT), Sue Cosgrove (Asst Coach, Qld).
Swimming: Bridgit Bromhead (ACT), Linda Cox (Tas), Danny Meadowcroft (Qld), John Krushka (Tas), Peter Love (Qld), Phillip Wardale (Qld), Rene Hardenbol (WA), Tim Krahe (SA), Jill Gates (Manager, SA), George Brown (Head Coach , WA), Erin Reddaway (Asst Coach, SA).
Delegation: Marie T Little OAM (Team Leader, SA), Jan Sutherland (General Manager, SA) and Trish Ayres (Physio, TAS).
The Australian star of the Games was Western Australia's Rene Hardenbol winning 3 Gold, 2 Silver and 5 Bronze medals.  Hardenbol won the 200m and 400m Freestyle and 200m backstroke events.  Tasmania's John Krushka was our only other Gold medallist in the pool winning the 50 and 100m backstroke events.  Krushka collected another 3 Bronze medals as part of the Australia men's relay teams.  Canberra's sole representative in the pool Bridgit Bromhead was our only female medallist with a Silver in the women's 100m backstroke.
Australia finished third in the swimming medal tally behind Sweden and Iceland.
On the track Queensland's Kaye Freeman was our most successful athlete winning 3 Gold and one Silver medal.  Freeman winning Gold in the 200m, Javelin and the 4 x 100m relay.  Western Australia's Anton Flavel was our leading male athlete winning the men's Javelin and Discus and collecting a Bronze in the Long jump.  Other individual medallists were Racquel Nugent (Qld) Gold in the women's 100m and 4 x 100m relay, Anne Walsh (ACT) Silver in the womens 1500m and Russell Torrance with a Bronze in the men's 800m and 2 more Bronze medals from men's relay events.
Australia finished on top of the Athletics medal tally ahead of Sweden and Scotland.
For many athletes this was the first time they had travelled overseas and represented Australia, for most it was a life changing experience building confidence, developing life skills and most importantly changing perceptions.  These pioneers were our first Australian Representatives.
The team were finalists in the 1989 Sport Australia Awards – Team of the Year Category.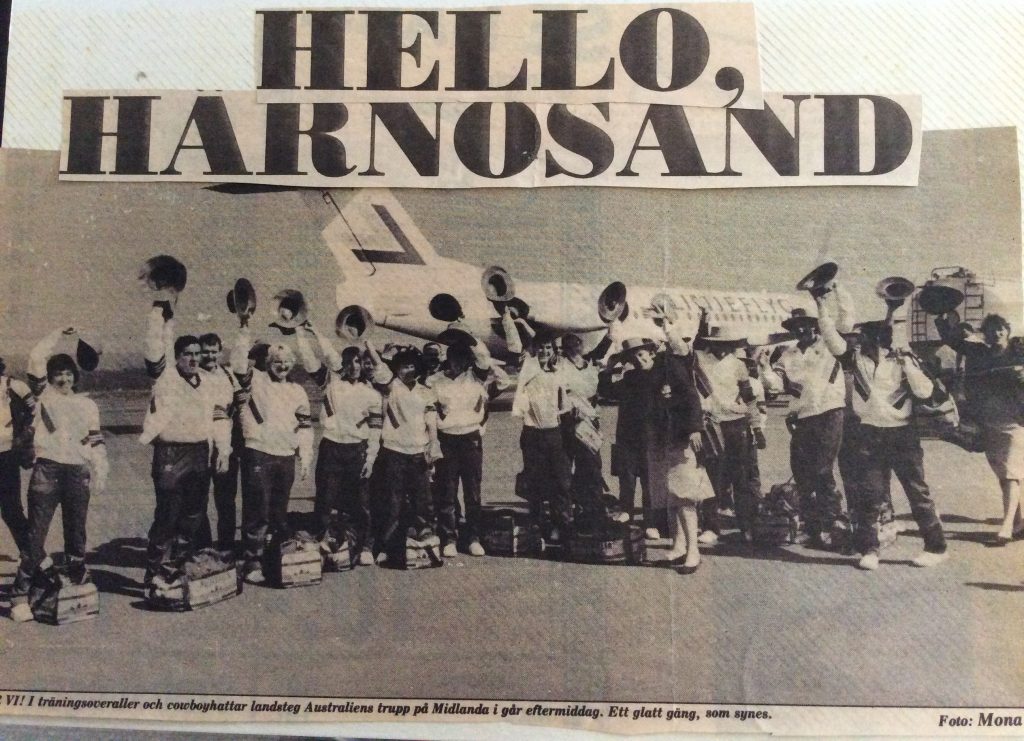 On returning to Australia team Manager Jan Sutherland delivered a paper titled "An evaluation and analysis of the first World Championships in Athletics and Swimming for persons with mental handicap 2-6 July 1989 in Harnosand , Sweden – Considering the role of elite competition in the structure of sport – An Australian perspective.  In her paper Sutherland makes several references to the importance of this event for athletes with an intellectual disability.  "This was the "Flagship" that was necessary to show that persons with an intellectual disability were able to participate competently in sport and hence stimulating greater enthusiasm for participation at all levels. Sutherland wrote.
Perhaps the last comment should be from the parent of an athlete reflecting on the impact of an inclusive sport on her daughter.
"Athletics opened up doors for Kaye which we thought would always be closed, she was recognised for her ability not her disability" Shirley Freeman.