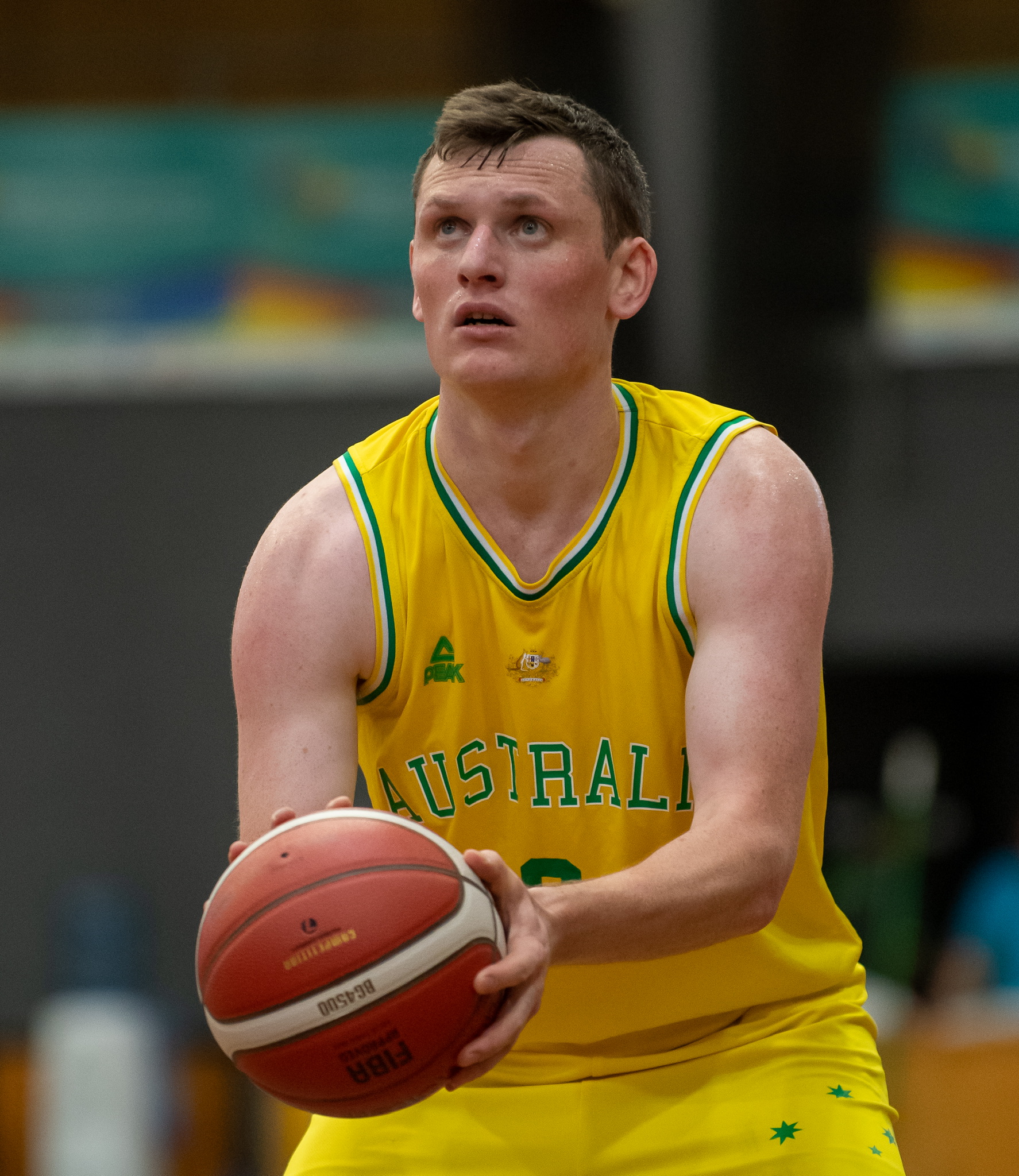 He stands out in the ACT's Ivor Burge team not just because he is one of the tallest player but also because he is the best and the ACT's sole representative in the  Australian Boomerangs Basketball team. However for Canberra's Justin Koenig it hasn't always been that way.
Koenig recalls the encouragement from his friend Andrew Hoatson to try out for the ACT's Ivor Burge Basketball team back in 2010  "That first ACT representative team was coached by Jim Bell,  I started on the bench which is what new players do" said Koenig referring to his first appearance for ACT at the Ivor Burge Basketball Championships.  Some 10 years later including 6 years as an Australian Boomerangs representative, Koenig is very thankful to Hoatson and Bell for encouraging him to take up the sport.
A keen sportsman, Koenig played aussie rules (100 games), tee-ball and cricket as a junior and now enjoys golf as well.  One of Justin's junior sport highlights is achieving a hat trick in cricket.
Growing up in Canberra he attended Woden special school before completing his studies at Copeland College.  Koenig doesn't have great memories at Copeland with bullying and some difficulties settling in to the mainstream school with less support, but he also sees it as a time that he grew more independence.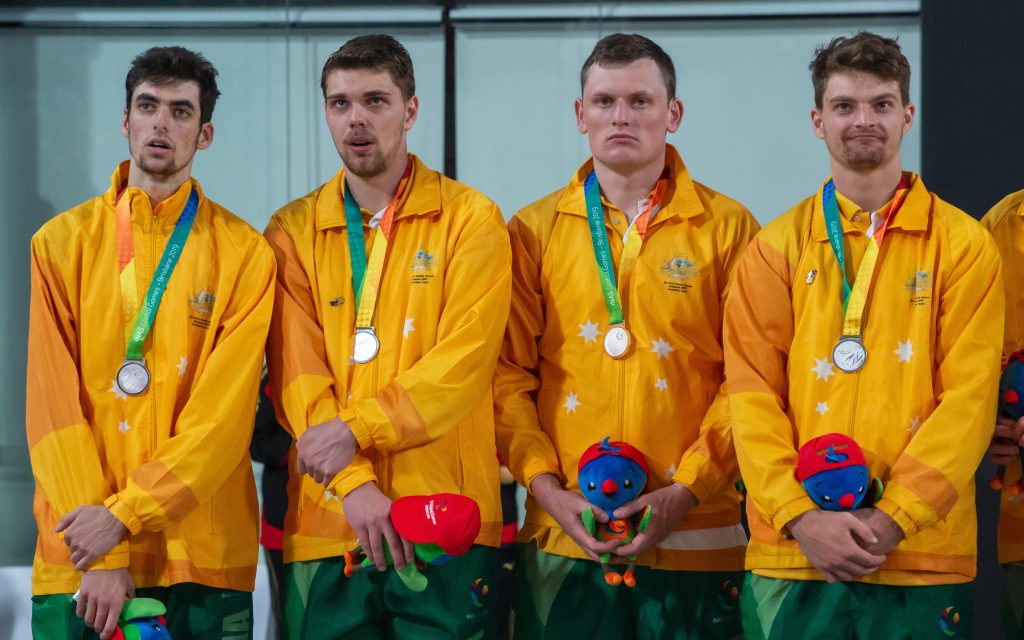 "Justin has always loved his sport, it has been an important part of his life and helped him to build his confidence and ability to interact socially with others." Said Justin's mother Jennifer Koenig.
Koenig's first game for the ACT Ivor Burge team was in 2010 against Victoria Country, a close game lost by the ACT 60-68 but importantly a game that saw him playing alongside his friend Andrew Hoatson and scoring his first points.  In those early years there was another ACT player dominating the scoresheets and representing the Australian Boomerangs in Mark Dahlberg.  The following year ACT had it's best ever performance at the Ivor Burge Championships reaching the grand final against Victoria, Koenig, Hoatson and Dahlberg all still there.
In 2014 Australian Boomerang's head coach Simon Robinson approached Koenig at the completion of the Ivor Burge Basketball Championships with some great news.  "I remember Simon coming up to me at the Closing Ceremony and telling me I had made the Australian Boomerangs team, it was a great feeling and I was very excited to be selected in my first Australian team" said Koenig.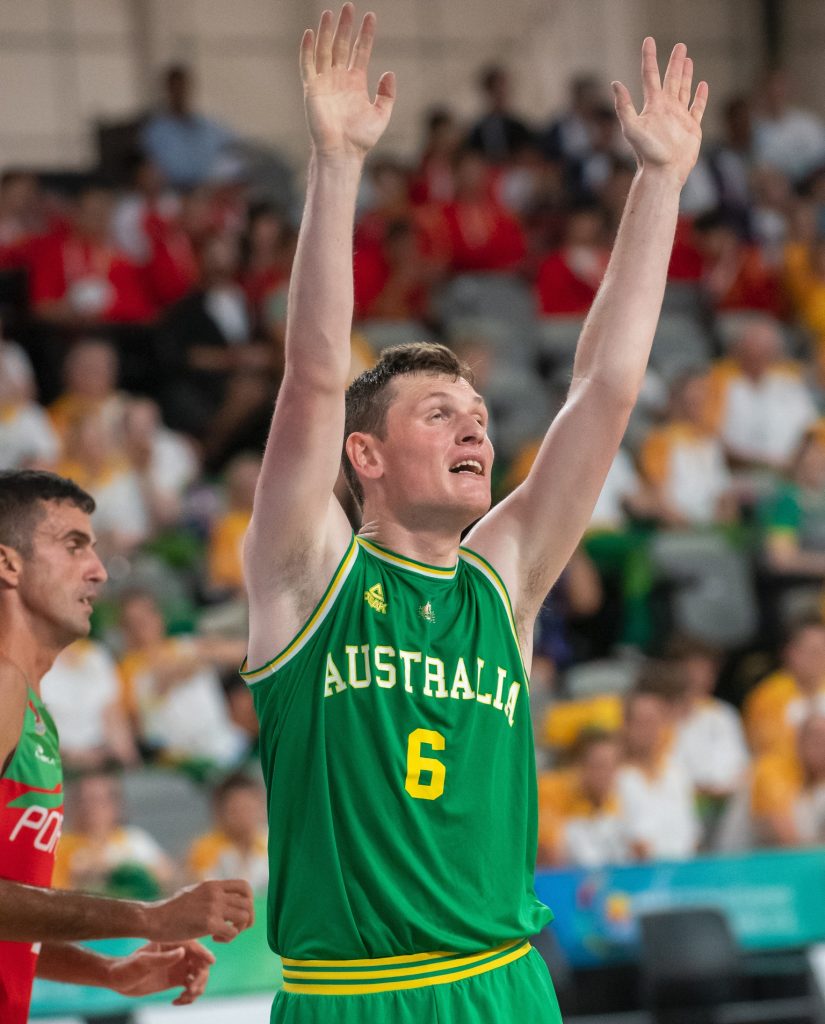 That year he trained with the Boomerangs and in 2015 made his debut against Japan, 2015 also saw Koenig travel to Ecuador with the Boomerangs for the 2015 INAS Global Games.  Australia made the Bronze medal playoff but were out run by the team from Portugal 55 to 69.  In 2017 Koenig travelled to Italy with the Australian Boomerangs team for the 2017 INAS Basketball World Championships.  Australia again made the playoff for the Bronze, but unlike 2 years earlier in Ecuador they dominated the game defeating Poland 88-52 to take the Bronze medal.
2018 saw a lot of change for Koenig with new coaches in both the ACT Ivor Burge and Australian Boomerangs teams.
Former Canberra Capital player Michelle Cosier started coaching Justin as coach of the ACT Ivor Burge team.  "He is very passionate about his basketball on and off the court and wants to be the best he can be." said Cosier.  For Koenig that passion can sometimes leads to frustration when things don't always go the way they should.   "As a perfectionist he is very tough on himself, we have been working on strategies on his mindset and his role as a leader in the ACT team." Cosier said.
The Ivor Burge Championships were held in Terrigal in 2018 and Koenig wasted no time impressing his new coaches with some outstanding statistics across the court.  "He is an incredibly strong player in all assets of the game, in one game he had a quadruple double with 38 points, 33 rebounds, 10 assists and 10 steals" Cosier said.
With the Australian Boomerangs, Koenig is comfortable with his role and describes himself as an impact player " I focus on defence, I get on do my job and get off" he said.  Boomerangs Head Coach Julia Walsh describes Justin as an impact player and one of the leaders within the team on and off the court.  "When the going gets tough Justin is the player that can turn the game around and the team can get caught up in his energy. He has matured as a player and as a leader. Justin has learnt to manage his emotions and to assist others when under stress. He has a great sense of humour and that is always valuable when you are living in each others pockets in the tournament bubble." Said Walsh.
Away from his ACT and Boomerang team duties Koenig plays Div 2 with the Ginninderra Rats in the ACT Basketball competition.  "It is a high level of competition that provides Justin with the challenge to work hard and play at a higher level on a regular basis." Said Cosier.
He has been lucky with injuries having rolled his ankle a couple of times, but for a short time in 2019 he thought his good luck had come to an end.
"It was one of our final training camps before the Global Games.   We were competing for places in the team and during a scrimmage my nose made contact with one of my team mates elbows, it was a mess, blood everywhere and we all thought I had broken it." Koenig said.  A few hours in casualty and a few xrays revealed no break and Koenig's dream for a home Global Games was still intact.
Koenig made the Australian Boomerangs team for the Brisbane Global Games where they played off for Gold against a strong Portugal team in front of a large home crowd.  Despite having defeated Portugal in the round robin stage, Portugal were again too strong for the Boomerangs winning 94 to 68 bringing back memories of their 2015 Bronze medal playoff.  Although disappointed the Boomerangs Silver medal equalled their best result of a Silver medal in the 1994 INAS Basketball World Championships in Greece.
Away from the Basketball court, Koenig works in the Emergency department at the Canberra Hospital, a job he has had for the past 7 years.    The job has provided Koenig with some stability and has been very supportive of his Basketball commitments allowing him time off for camps and tours.
Basketball ACT recognised Koenig's performances and contribution to basketball as their 2015 Male Player of the Year and in 2018 'recognition of significant personal achievement bringing credit to Basketball and the ACT Basketball Community'.
Koenig is also very aware of those that have enabled him to do what he does best, his mum Jennifer, ACT coaches Jim Bell, Chloe Tugliach, Michelle Cosier and Boomerangs coaches Simon Robinson, Julia Walsh and Glen Jordan.
Still driven to be the best he can be and to play at a higher level, Koenig looks forward to more challenges ahead and hopefully one day helping the Boomerangs to that elusive Gold medal that has eluded them so far.