Australian INAS Global Games cycling team head coach Brad Reardon, along with his assistant coach Peter Ganss and manager Liz Gosper will lead the Australian team to their next major international competition, the Virtus Cycling World Championships in Portugal in July.
Having brought together our largest and most successful cycling team at an INAS Global Games,  Reardon, Ganss and Gosper have been re-appointed to continue the development of the Australian team.
Unsure of the level of competition and performance of the Australian team leading into the Games, Reardon was pleasantly surprised with the teams performance and inspired to take the team to the next level where they will be even more competitive against the World's best.
The cycling team was made up of many debutante athletes who had not been exposed to such competition previously. With this experience behind them and with the continued assistance of coaches such as Reardon, Ganss and Gosper the team is well placed to take on the World's best at the upcoming Virtus World Cycling Championships in Portugal.
With over 40 years experience coaching cyclists at all levels, the INAS Global Games was Reardon's first experience working with cyclists with an intellectual impairment.  "It is an honour to be appointed as a head coach of an Australian cycling team and it is a pleasure to continue to work with these cyclists that are so keen to learn and improve." Reardon said.
Reardon will be well supported by Ganss and Gosper both of whom have performed and medalled at National level at Masters, Ganss in cycling and Gosper in triathlon.  The bulk of the Australian team are expected to come from Victoria where Ganss and Gosper have been very busy and successful developing and driving a cycling program for cyclists with an intellectual impairment.
The team is expected to be announced in early March and will travel to Portugal in July to compete in both road and track events.
Cyclists have till close of business on Monday to lodge and expression of interest for Australian Team selection.
The successful INAS Global Games held in Brisbane in October 2019 has been a huge catalyst for the sport with Cycling Australia taking the lead and announcing that they will include events for cyclists with an intellectual impairment in future National Championships.  Cycling Queensland were so impressed with the cyclists ability and the level of competition that they have added events to their State Championships also.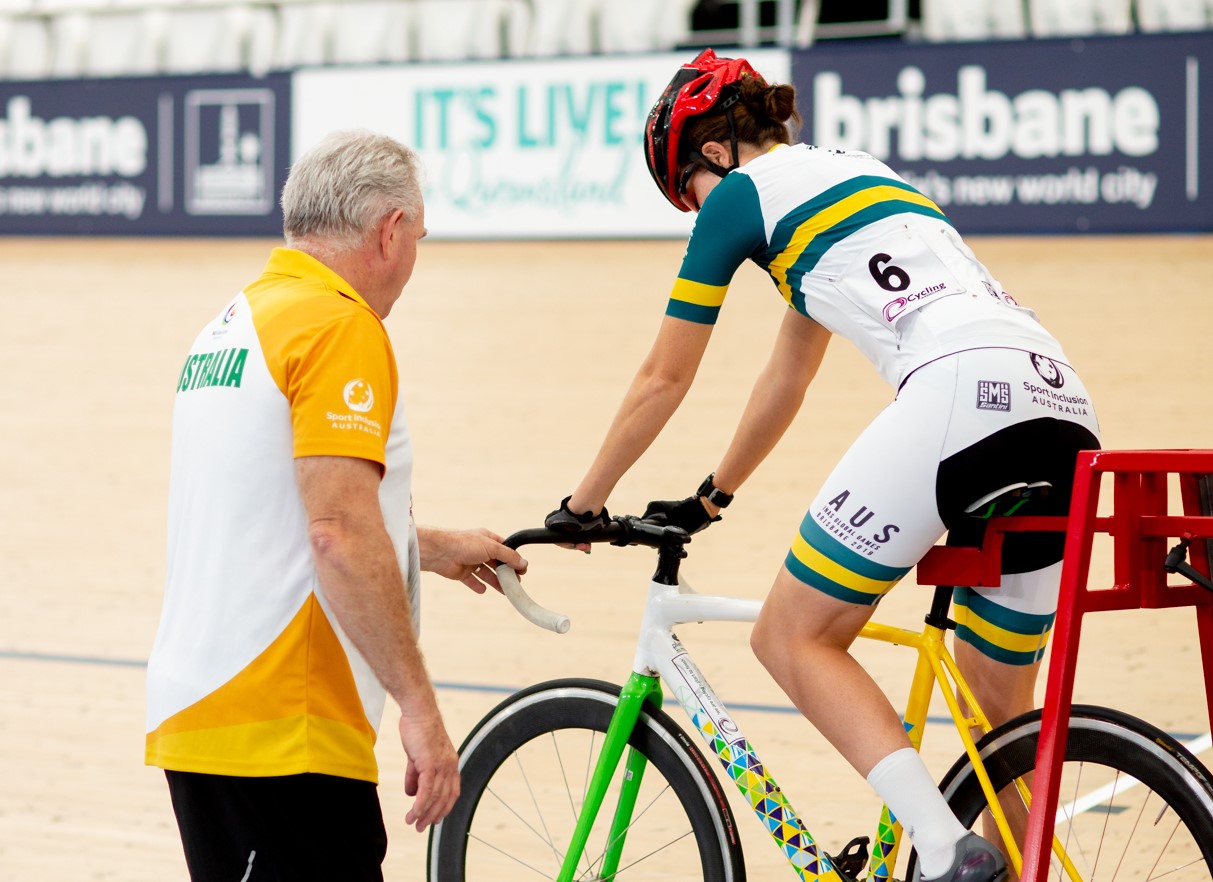 The first National Road Championships were held in Ballarat in January with Victoria's Nathan Broeren and Georgia Powning our Inaugural National Champions in the Time Trial.  Powning went on to win the Road race with Andre Ascui taking the men's title.
"Cycling Australia was pleased to include the athletes with intellectual disability into the Federation University Road National Championship.  Cycling is a sport for all Australians and we look forward to growing the number of opportunities for riders of all abilities".  said Kipp Kaufmann, General Manager – Sport at Cycling Australia.
Sport Inclusion Australia is the Australian member organisation of Virtus and works with National Sporting Organisations to be inclusive of all Australian's primarily those with an intellectual impairment.
"We are very pleased to see the development of cycling opportunities within Cycling Australia and its Member States for these cyclists and the professional approach to coaching and development of this team." said Sport Inclusion Australia CEO Robyn Smith.
The Virtus Cycling World Championships will be held in Anadia Portugal from 21 to 27 July.
---
For more information on cycling opportunities contact Michael Thomson at Sport Inclusion Australia on 03 5762 7494 or email michael.thomson@sportinclusionaustralia.org.au