South Australia's Andriana Petrakis and Queensland's Luke Barker are set to make their debut for Australia at the Virtus European Tennis Championships in Poland next week.
Petrakis came on to the National scene in 2018 and was quick to impress selectors with her selection in the Australian team for the 2019 Virtus Global Games in Brisbane.  Unfortunately for Petrakis she had to withdraw due to ill health. A lack of international competitions since 2019 has deferred her debut for another 3 years.   Petrakis is coached by Craig Palfrey and is part of the Tennis SA National Development squad under Sandon Stolle.
Barker played his first National Championships in Melbourne in 2020 as a 14 year old, he too was quick to impress selectors being selected in National Junior Development Squads under Glen Hamilton and Alison Scott.   Barker had his best performance in 2021 winning the South Australian PWII Championships and in 2022 he reached the semi-finals of the Australian Tennis Championships.  Earlier this month Barker finished third in the Queensland Tennis Championships behind team members Archie Graham (Qld) and Mitchell James (Qld).
Australia will send a team of 8 players to the Championships which will be their first opportunity to compete since the Virtus Global Games in Brisbane in 2019.
Petrakis will join Kelly Wren (NSW) and Breanna Tunny (Qld) in the women's II-1 singles with Barker  teaming with Archie Graham (QLD), Mitchell James (QLD), Tim Gould (QLD) and Damian Phillips (NSW) will join Barker in the men's competition.
Tennis Australia announced the team at the recent Tennis ACT PWII Championships in Canberra where the players obtained some valuable match practice on clay to prepare for the Polish clay courts.
Australia has been the dominant country in tennis for many years with Kelly Wren and Archie Graham both former World Champions and World number 1 ranked players.  Both Wren and Graham are in outstanding form at the moment and looking forward to the Games and an opportunity to regain their Number 1 rankings.
All players have been fortunate to have strong regular competition here in Australia, after almost 3 years with no International competition coaches are keen to see how the team competes against their international rivals.  "We have been able to keep an eye on our team and how they are playing so we can't wait to see how that equates on the international stage after a long absence, and in particular looking forward to seeing the younger players Petrakis and Barker establish themselves on the international stage." Said National Coach Alison Scott
Victoria's Carla Lenarduzzi was also selected in the team but unfortunately for Lenarduzzi she has had to withdraw due to Covid-19 infection.
"It is wonderful to see the improvement in the younger players Tunny and Petrakis who are taking on and challenging Wren and Lenarduzzi who have been dominant players in Australian tennis for many years." Said Scott.
Graham is arguably in the best form of his life fresh from the QLD and ACT Championships and two Tier 2 tournament wins in Toowoomba and Beenleigh.  Great Britain's Dominic Ianotti defeated Graham in Brisbane in 2019 and has taken the title as World number 1, a title Graham is keen to regain.  "It's been three years since I have had a chance to play internationally, I am feeling really good right now so I can't wait to play in Poland." Graham said.
In addition to the singles competition players will also contest doubles and mixed doubles.
The 2022 Virtus European Championships will be held in Krakow Poland from 16-24 July.  Australia will host the Virtus Oceania Asia Games in Brisbane from 5-11 November.
Australian Team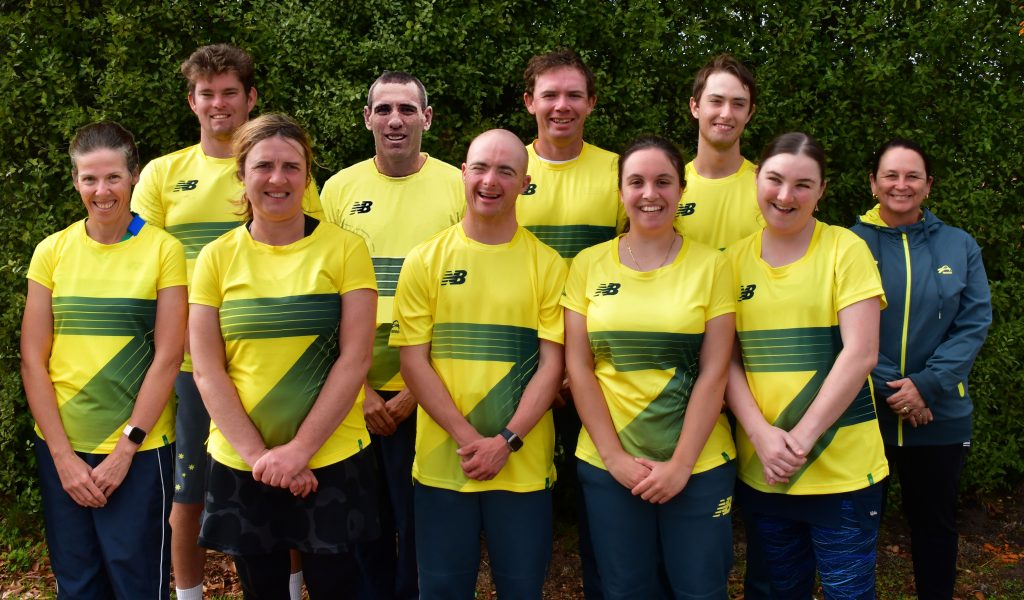 Men                                                         Women
II-1 Singles                                            II-1 Singles
Archie Graham (Qld)                         Kelly Wren (NSW)
Mitchell James (Qld)                         Breanna Tunny (QLD)
Luke Barker (Qld) debut                   Andriana Petrakis (SA) Debut
Damian Phillips (NSW)                     Carla Lenarduzzi (VIC) Withdrawn due to Covid
II-2 Singles
Tim Gould (Qld)
Head Coach       Alison Scott (QLD)
Manager            Jay Schuback (VIC)
Asst Coach        Steve Manley (NSW)
Contact: